Turtle watching in Oman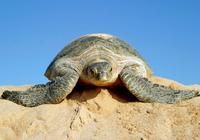 The Sultanate of Oman is home to some of the most important turtle nesting grounds in the world with thousands of turtles migrating annually from the warm waters of the Arabian Gulf (and beyond) to lay their eggs on the Sultanate's shores.
Five of the world's seven species of turtle can be found in Omani waters; the Green, Loggerhead, Olive Ridley and Hawksbill all nest on the shores of Oman, while the largest visitor, the Leatherback, stays in Oman's off-shore waters.
The drama unfolds at night during nesting season when female turtles drag themselves from the water onto the beach and, using their hind flippers, dig circular holes 50cm deep which are then filled with between 50 and 200 soft-shelled eggs (depending on species).
After laying the eggs, the turtles re-fill the nest and return to the ocean, leaving the eggs untended (the whole laborious process takes about sixty minutes).
Incubation takes about two months after which the turtle hatchlings emerge (usually at night) and instinctively scurry towards the relative safety of the sea as fast as they can. The dash to the sea is a magical event and, if lucky enough to witness it, a highlight on any turtle watching in Oman holiday.
September to November are the best months to see both laying and hatching, and specialist operator Corinthian Travel's nine-day Family Holiday in Oman this October half term is the ideal opportunity to enjoy this miracle of nature.
The trip is chauffeur-driven throughout with highlights including camping amongst the desert dunes, swimming in cool river-fed canyons, driving off-road into the rugged mountains, picnics in the wilderness and cycling through an oasis.
The itinerary also includes a cultural encounter with a visit to a Bedouin Family and a chance to swim in Wadi Bani Khalid; but the most exciting part of the holiday is day six with the opportunity to go dolphin watching before seeing the turtles come ashore at Ras Al Jinz.
The holiday can depart any day of the week and costs from £1595 pp (based on a family of four travelling and staying in two rooms) which includes 8-nights' B&B (plus one lunch and three dinners), all sightseeing and entrances as per the itinerary and chauffeur-driven transfers with English speaking driver/guide.
Corinthian Travel can book international flights on request.
For more information, visit corinthiantravel.co.uk.