Perth's whale highway, the whales are coming!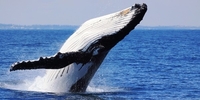 Perth's coastline offers some of the closest whale watching experiences in the world, if you are lucky you can actually see whales whilst standing on the beach!
Perth coastal waters are part of the Humpback Highway that stretches along the coast of WA. Up to 35,000 whales take this trip every year making it the largest whale migration in the Southern Hemisphere! Between September and December, humpbacks take a rest-stop off the coast of Perth giving you the perfect opportunity to see them from the beach or for an encounter on a thrilling whale watching cruise.
Perth has a range of quality, safe and reliable operators who offer whale watching tours from; Perth City (Barrack Street Jetty), Hillarys Boat Harbour, Fremantle B shed and Fremantle Fishing Boat Harbour. Tours can run for 2 to 4 hours with informative commentary, fact sheets and DVD's. Some operators have a special hydrophone onboard that allows you to hear the whales communicate with each other and offer a free trip if you don't see a whale!
Experience Perth CEO Noeleen Pearson said; "The annual whale migration is a huge drawcard for locals and visitors to experience and enjoy nature at its best. We are fortunate to live in a beautiful city that has such a diverse range of experiences on offer supported by hundreds of quality tourism businesses offering excellent products such as the whale watching tours offered by Rottnest Express, Rottnest Fast Ferries, Mills Charters and Westcoast Jet".
Tours cost from around $60 per adult for a 2 hour cruise. There are a range of cruises to choose from that depart throughout the day. Free hotel pick up is available in the city from some operators and packages offered can also include free entry into the Aquarium of WA at Hilary's Boat Harbour.
For more information, visit:
experienceperth.com/things-to-see-and-do/nature-and-wildlife/natures-calendar/whale-watching-adventures