Punto Evo stars in new music video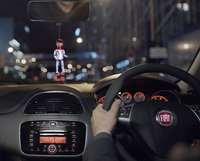 It's made inroads into the car sales charts and now the new Fiat Punto Evo looks set to do the same with the music charts.
The popular family hatchback, launched here in January this year, features in a new music video released to promote the latest single from dance act Faithless.
In a move that is set to transform both music and automotive marketing, Fiat and Faithless have produced the three-minute video for Feelin Good to serve also as a TV advert for the Punto Evo.
This 'Prommercial' – a hybrid of promotional video and TV commercial – is a first in the music video and car advertising worlds, and allows the Punto Evo to play an important part in the narrative of the new Feelin Good video.
It was first shown on Sunday, 15 August and screened during a break in the Channel 4 reality show Big Brother. Fiat booked the entire three-minute advert break to show the music video and create maximum impact.
Set to be one of the biggest music video productions of the year, the Feelin Good video plot follows the exploits of a young man and woman, whose incredible dance moves are directly affected by the movements of small dolls hanging from the rear view mirrors of two Fiat Punto Evos.
To celebrate this ground-breaking marketing activity, Fiat is launching a special edition Feelin Good Punto Evo, featuring 15-inch alloy wheels, metallic paint, sports bumpers, Blue&Me information and entertainment system, Start&Stop, rear spoiler, dark tinted headlights, and adaptive cornering foglights. The three-door model costs just £9,595.
And any customer test driving a Fiat Punto Evo before 21 September will receive a free MP3 music player and a copy of the Faithless album The Dance.
"This is not just about a brand sponsoring a band. It's much more than that – we are co-creating a promotion," says Elena Bernardelli, marketing director, Fiat Group Automobiles UK & Ireland.
"Punto Evo is leading the way in innovation, so we were thrilled to get involved with another music initiative that reflected our forward-thinking approach. It was essential for us that we didn't just place the Punto Evo in the video – we wanted it to be at the heart of the storyline."