Gulf Air sends relief cargo to Pakistan flood victims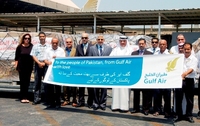 Following the recent unprecedented flood that has been ravaging Pakistan, Bahrain's national carrier Gulf Air extended its helping hands by sending a cargo of relief materials to help the people, who have been affected by the devastating floods.

Tens of boxes containing utility items such as blankets, raincoats, first aid kits and other utility items were despatched to Islamabad in Pakistan by a scheduled Gulf Air flight in the presence of His Excellency Mr. Ikramullah Mehsud, Ambassador of Pakistan in Bahrain and Mr. Rana M Rafique Khan, Community Welfare Attache at the Embassy of Pakistan in Bahrain, Mr. Maher AlMusallam, Gulf Air Deputy Chief Executive Officer, Mr. Khalid Hassan Abdulla, Senior Manager, Gulf Air Cargo department and other Gulf Air officials.

"His Majesty King Hamad bin Isa Al Khalifa has given his directions to help the flood victims of Pakistan and as the national carrier of the Kingdom of Bahrain Gulf Air considers supporting the communities in which it operates as part of its Corporate Social Responsibility," said Mr. AlMusallam.

"Gulf Air has been operating to several cities in Pakistan for decades and it is natural for us, as a responsible corporate entity, to extend our helping hands to the needy people especially under such difficult circumstances. This donation is a small gesture to show our support to the people of Pakistan."

Adds Mr. Mehsud, "We are very thankful to Bahrain's national carrier, Gulf Air, for donating and flying the relief cargo. This timely gesture by Gulf Air will help thousands of people who have been affected by the worst-ever flood in Pakistan's history."

The relief materials have been handed over to the Pakistan National Disaster Management Authority for distribution to the needy people.