Mitsubishi i-MiEV - UK's first choice electric vehicle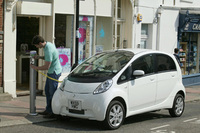 Mitsubishi Motors in the UK is pleased to announce that it has reduced the i-MiEV's launch pricing to £28,990 for orders placed for delivery from January 1st 2011. This coincides with the UK Government's recently confirmed consumer incentive of £5,000 – which means customers will only have to pay £23,990.
This price realignment signals Mitsubishi Motors' global intentions to remain first in the promotion and establishment of the early electric vehicle market, Lance Bradley, Mitsubishi Motors in the UK's Managing Director asserted that:
"The i-MiEV will remain first in all respects. We have been first in almost every aspect of the UK's EV market for the last 2 to 3 years and we're not going to give up that position easily. The electric vehicle is now a reality, with all our cars being European Whole Type Vehicle Approved. With a Mitsubishi Motors electric vehicle, customers need not compromise in any area.
What is more, our car is perfect for urban driving. It has been designed deliberately as a small, compact, true city car with the ability to nip in and out of traffic and park in the tightest of spaces."
Proven in Real-World UK Trials
Over 2,300 i-MiEVs have been operating on Japanese roads since full production started in July 2009 – making Mitsubishi Motors the first manufacturer to mass-produce an electric vehicle in the world.
The i-MiEV has been proving its reliability and usefulness on the UK's roads since 2007, and has been involved in official government end-user trials since mid-December 2009 with customers in the Coventry and Birmingham area. Some of the key findings of the trial are highly relevant to prospective purchasers of the i-MiEV.
The i-MiEVs have been used like a typical UK driver in a petrol or diesel engine car with the majority of journeys are less than five miles. Interestingly, this is when conventional car engines are just warming up and are at their most polluting, and catalytic converters are at their least effective. The average daily mileage has been just 23 miles, which is well within the i-MiEV's 90 mile range, and drivers use the entire speed range of the car, showing they are happy to drive at motorway speeds when required.
Fashion, Technology and the Environment
The petrol i-car, upon which the i-MiEV is based, has won numerous awards for its funky, youthful, energetic design. In the local UK market, this is sure to appeal to customers for whom the latest technology, environmental considerations, and making a definite fashion statement are at the top of their shopping lists.
The i-MiEVs will all be offered with a range of bespoke accessories to help each car fit the "personality" of its owner – from roof and wing mirror graphics to enhanced audio / MP3 options, leather interiors and environmentally friendly accessories.
Price and Incentives
In addition to this price reduction, the ultra-low running costs of the i-MiEV are a key advantage over other cars, with additional incentives including:
Only £144 fuel costs for 12,000 miles driving (£0.96 pence for a full charge – 16kW at an average of 6p per kW)
Low servicing costs and downtime – only approximately 4 working parts compared to over 300 in a typical internal combustion engine
Exempt from road tax
First year capital allowances for fleet vehicles
Zero benefit-in-kind company car tax
Exempt from London Congestion Charge
Free parking in some London boroughs and cities such as Milton Keynes
Expected high residual values due to high demand outstripping supply for several years to come
Customer Orders
The Mitsubishi Electric Vehicle Centre in Central London has already taken several orders for delivery in January, and this latest pricing announcement is sure to increase enquiries and sales from all areas of the market – retail, small business and large fleets.