Fiat connects with Connect in car-share fleet partnership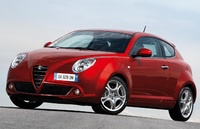 Further evidence of Fiat Group Automobiles UK's drive into the fleet market is provided today with the announcement of a major tie-in with leading car-share organisation Connect.
The Hertz-owned car-by-the-hour business has agreed a deal that makes the popular Fiat 500 city car and Alfa MiTo sporty compact the key cars in its fleet, as it expands Connect's appeal to customers looking for occasional use of a car. Rolled out initially in London, the car-share scheme is being prepared for wider use later this year.
Connect works by making cars available to hire for as little as an hour at a time. A special swipe card unlocks the pre-ordered vehicle, allowing the driver to use it for the time booked before returning it to its home point.
Both Hertz and FGAUK believe the Fiat 500 and Alfa MiTo will make perfect cars for this service, and the former has agreed to take 170 vehicles at the start. A blend of impressive fuel economy, sub-120g/km CO2 figures, ease of driving and individual styling set the two models apart from many of their respective competitors.
And it's also good news if Connect customers like their Fiat or Alfa so much that they don't want to give it back – FGAUK is currently devising special terms and offers for Connect members wishing to buy one.
"The Connect arrangement fits very well into our fleet strategy and is a high-profile, exciting deal," says Andrew Humberstone, managing director, Fiat Group Automobiles UK and Ireland.
"This gives us a significant retail platform as it's exactly the right audience for our products," adds Paolo Lo Monaco, finance and business development director, Fiat Group Automobiles UK and Ireland. "It puts the Fiat 500 and Alfa MiTo right where we want them to be – in the hands of young, environmentally-conscious individuals who are free-thinking about the car they want to drive."
Bob Stuart, Senior Vice President of Global Sales at Hertz, says: "We are extremely excited to have formed this exclusive alliance with Fiat for our car sharing club offer in the UK. The addition of the Alfa Romeo MiTo and the expansion of our Fiat 500 fleet really demonstrate Connect by Hertz's commitment to transforming the way we travel in the city. The Fiat 500 has been extremely popular with customers, so we are reacting accordingly by adding more of these to the service. Both cars offer innovative and eco-friendly alternatives while remaining at the height of fashion – a perfect combination for our members."