Energy-smart apartments in Scunthorpe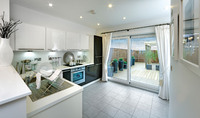 This month sees the UK housebuilding industry launch national New Homes Month – aimed at highlighting the many benefits of buying a new home as opposed to a second hand one.

Among the numerous advantages in the on-going new versus old debate, is that new build homes are not only cheaper to run but are also more energy efficient.

As well as helping the environment and lowering the carbon footprint, the other benefit of buying a brand new energy smart home is that it will be kinder to your pocket.

Stamford Homes' apartments at the Water's Edge development in Scunthorpe tick all the right boxes – and now there is an easier way to snap one up.

While the shared equity HomeBuy Direct scheme has now ended, the new homes builder is offering customers an alternative money-saving incentive.

The 85/15 EasyStart scheme allows homeowners to pay for just 85 per cent of their new home, yet own 100 per cent of it.

Customer can simply reserve the home of their choice, and Stamford Homes will pay the remaining 15 per cent by means of an interest free loan; interest free for three years but can be paid off in up to 10 years, or settled at any point during that period.

The last remaining two-bedroom ground and first floor apartments are available at Water's Edge, starting in price from £99,995.

Peter Bond, Stamford Homes regional sales and marketing director, said: "Brand new homes are making extensive efforts to minimise the energy costs of running a home by using thermal-efficient building materials, the latest high-efficiency heating systems and a host of other cost-saving innovations.

He added: "We are hearing more and more people asking about the running costs of our homes and it's apparent that following the harsh winter and the prospect of colder weather in the coming months, fuel costs are becoming a key driver in making people decide to move to a home with lower running costs."

The apartments offer safe and secure housing in a growing community, and are perfect for people looking to downsize, planning to retire or who simply want to save money.

Pleasant views of green open space and Ashbyville Lakes, coupled with the development's close proximity to the Lakeside Retail Park, means that a range of recreational and lifestyle needs are catered for.

For more information, pay the sales team a visit from Thursday to Monday inclusive.