Iveco assembles wide-ranging green fleet for low carbon show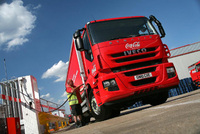 Iveco will be exhibiting a five-strong line-up of alternative fuel and traction system vehicles at the third Low Carbon Vehicle Show, being held at the Millbrook Proving Ground on 15 and 16 September 2010. Product Director Martin Flach will also be presenting the company's two-tier strategy for low carbon vehicles during the fleet seminar on the first day of the Show.
Taking pride of place on Iveco's stand will be a 21 tonne Stralis Active Day (AD260S30Y/FS-D CNG) 6x2 rigid distribution vehicle running on compressed biomethane (CBM). Three months ago this vehicle became the first CBM-powered truck to be operated anywhere in the world by Coca-Cola Enterprises (CCE), and the first such Stralis to be delivered in the UK. It is being used to determine the long-term sustainable transport strategy of CCE in Great Britain, and has been supported with the installation of a road gas refuelling station at the company's distribution facility in Enfield, Middlesex.
It will be joined on display by one of 25 natural gas-powered EcoDaily 40C14G chassis cabs operated by Tesco.com, the online shopping subsidiary of Britain's number one retailer. Built as dedicated alternative fuel vehicles at Iveco's production plant in Suzzara, Italy, these EcoDailys run exclusively on CBM, which has the lowest carbon intensity of any commercially available fuel. The Tesco.com vehicle will be joined at Millbrook by a second EcoDaily 35S14G van from Iveco's demonstration fleet.
Completing the line-up of natural gas vehicles will be a 19-tonne Stralis Active Day rigid (AD190S27/P CNG/LNG) making its debut appearance in the UK. This vehicle is specially modified by Schouten, an Iveco dealer in the Netherlands, and features four compressed natural gas tanks and a liquid natural gas tank. LNG, which is stored in a cryogenic tank at -160 deg C, has greater energy content by volume than CNG and so the vehicle range can be much better.
Iveco will also be exhibiting its new 3.5 tonne EcoDaily Electric van, which was officially launched in the UK last month (August). One of a range of fully electric 3.5 and 5.2 tonne van and chassis cab models, the EcoDaily Electric combines all the robustness, productivity and flexibility of Iveco's popular light commercial vehicle range into a model producing zero tailpipe emissions.
This vehicle stands out for being designed, engineered and manufactured by Iveco, rather than an aftermarket conversion or a bespoke offering from a small volume manufacturer. All drive components and batteries are housed either in the engine compartment or within the chassis side rails, ensuring there is no compromise in load space. Furthermore, customers benefit from a full Iveco warranty plus the support of Iveco's worldwide dealer network.
Martin Flach, Product Director of Iveco UK, says: "Iveco has invested heavily in alternative fuel technology since the mid-1990s. As a direct result, we offer the largest selection of low-carbon commercial vehicles available in Europe, with the EcoDaily Electric joining natural gas variants of our EcoDaily, Eurocargo and Stralis, together with an innovative hybrid Eurocargo."