Sir Stirling Moss to drive i-MiEV at Start Eco Car spectacular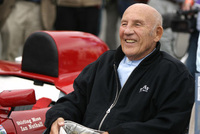 British motor racing legend, Sir Stirling Moss, is to drive a Mitsubishi i-MiEV in the Start Eco Car Spectacular on Sunday 12th September. The event, hosted on The Mall, London, is part of HRH The Prince of Wales' sustainability initiative 'Start', which will present positive steps to leading a sustainable lifestyle.
'Start' forms part of The Prince of Wales', 'A Garden Party to Make A Difference', an event lasting twelve days from 8th – 19th September that promotes and celebrates sustainable living. The Eco Car Spectacular is the result of the passion and organisation of Mulberry founder Roger Saul and Grand Design's presenter Kevin McCloud. Roger Saul said: 'This will be a ground-breaking gathering for anyone with even the smallest interest in an eco-friendly way of travelling. It will offer a chance to question the transport we use and view the possible alternatives. I am thrilled to be involved.'
With assistance from the EVCUP (Electric Vehicle Cup Race Team), Roger and Kevin have brought together an eclectic mix of celebrities and car fanatics to parade a range of low emissions vehicles down The Mall. Sir Stirling will be joined, for example, by the judging panel from BBC's Dragons' Den.
After testing the Mitsubishi i-MiEV recently, Sir Stirling said: "I was very impressed by the Mitsubishi i-MiEV. Electric cars are slowly becoming a realistic proposition to use as an every day car, especially if you live in a city and I am looking forward to driving it again on The Mall on the 12th September".