Mitsubishi i-MiEV awarded Best City Electric Vehicle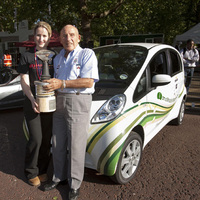 The Mitsubishi i-MiEV was awarded the 'Best City Electric Vehicle for the Future' Award at the Start Eco Car Spectacular on Sunday 12th September. The trophy, fashioned from old car parts, was specially designed by Mulberry founder Roger Saul and Grand Designs' presenter Kevin McCloud. The award was presented by Sir Stirling Moss, who drove the i-MiEV on The Mall in front of Buckingham Palace.
After driving the car, Sir Stirling said: "The i-MiEV is great fun. It's the most practical electric car currently available, with plenty of room for four adults, impressive acceleration and minimal running costs. It's a fantastic car for driving in towns and cities."
Mitsubishi Motors Managing Director Lance Bradley said: "We are delighted to receive the 'Best City Electric Vehicle for the Future' award. The Start Eco Car Spectacular was a great event that has helped raise awareness of zero emissions vehicles like the i-MiEV. We were also thrilled to welcome Sir Stirling Moss. It might not quite compare with winning the Mille Miglia, but hopefully he enjoyed driving our electric car up The Mall."