The curious case of Barceló Hotels and Agatha Christie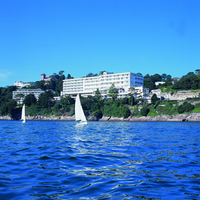 Retreating to a luxury hotel with a romantic, luscious setting has long appealed to authors struggling with a difficult plot. Barceló Hotels has discovered that it has two hotels in its collection that were favourites with Agatha Christie - the Barceló Torquay Imperial Hotel and the Barceló Formentor in Majorca.

Celebrating the 120th anniversary of her birth this year, now is a great time to investigate her attraction for yourselves.

Agatha was born in Torquay and lived there for most of her life. The Barceló Torquay Imperial Hotel is a famous local landmark which she used for the setting of the opening chapter of her book, 'Peril at End House'. In the book it is renamed the Majestic and described by Hastings as …"in its own grounds on a headland overlooking the sea. The gardens of the hotel lay below us freely interspersed with palm trees. The sea was of a deep and lovely blue."

The terrace of the hotel is also the setting for the final chapter of 'Sleeping Murder' when Miss Marple unravels the mystery for Gwenda and Giles. Agatha herself attended many social occasions here and the hotel still reflects the elegance and grandeur of that period. Soak up the atmosphere with afternoon tea in the Palm Lounge and enjoy the panoramic views of the bay.

Torquay itself has many fascinating features related to Agatha Christie and visitors should try out the Agatha Christie Mile - a walk which encompasses famous landmarks, memorials and favourite places relating to the writer. Torre Abbey (Torquay's oldest building) is also home to the Agatha Christie Memorial Room, which features her favourite armchair, her 1937 Remington Portable Typewriter and her plotting notebook containing the handwritten manuscript of the best seller 'A Caribbean Mystery'.

The Barceló Formentor in Majorca was also greatly loved by Agatha, who wrote her novel 'Problem at Pollensa Bay' following one of her stays there. The hotel was also used as the setting for a film version of 'Evil Under the Sun' starring Peter Ustinov, Diana Rigg and Maggie Smith.

The iconic Barceló Formentor is situated on the famous Formentor headland (Pollensa, Majorca) and boasts panoramic views over the bay. The hotel is a stone's throw from the beach and has a fantastic pool within its Mediterranean gardens for guests to enjoy. The city centre of Palma de Majorca is also easily accessible by car.

For more information and bookings, visit Barcelo.com.