Maserati and HR Owen sponsor the Queen Charlotte's Ball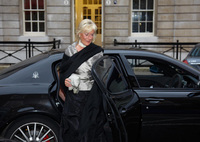 Maserati GB and its London retailer HR OWEN Sports Cars were extremely proud to support the revival of the Queen Charlotte's Ball, for the second year running.
The Ball was founded over two hundred and fifty years ago by Queen Charlotte with the help of the debutantes of the time to raise funds for mothers and babies through the hospital later called Queen Charlotte's Hospital: it was the traditional "coming out" ceremony that once heralded the beginning of the season.
This year the London Season, chaired by Mrs David Hallam-Peel, has been supporting Veterans Aid, Help for Heroes and The Smile Train.
The Event took place in the Treasury House at the Inner Temple, where the Debutantes were presented to HRH Princess Katarina of Yugoslavia, HH Princess Olga Romanov and Their Graces The Duke and Duchess of Somerset, wearing beautiful Pronovias white gowns and diamonds and pearls by Mikimoto. The title of Debutante of the Year went to Miss Amelia Simmons, who distinguished herself – as Mrs David Hallam-Peel pointed out - for her ability to speak in public, and who will surely prove to be a great ambassador for the London Season and its chosen charities.
HRH Princess Katarina of Yugoslavia and HH Princess Olga Romanov arrived at the Treasury House in a chauffeured Maserati Quattroporte S.
The Charity Auction, which included two VIP tickets for Goodwood Revival, a full weekend drive of the stunning Maserati GranCabrio and a chauffeur driven Maserati Quattroporte for a day's Christmas shopping, was brilliantly conducted by Mr Barthaud and also auctioned pieces such as a vintage unique Clive Christian handbag and lithographs from Picasso and Miro.
The guests were brilliantly entertained by the award winning magician Spencer Wood and Peter Howell and the Jive Aces, band to the Royal Family and innumerable celebrity parties.