Gulf Air launches miles redemption facility for excess baggage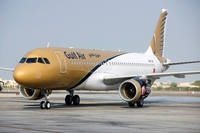 Gulf Air, Bahrain's national carrier has introduced a new incentive for its Frequent Flyer Programme (FFP) members travelling from Bahrain and London.

The airline's FFP members can now redeem their earned miles for excess baggage when departing from Bahrain International Airport or London Heathrow Airport to their respective destinations. This new incentive was officially launched on August 1 in London, following its successful introduction in Bahrain on June 1.

"We are glad to introduce one more privilege to our loyal passengers" said Mr. Kyle Haywood, Gulf Air Chief Commercial Officer.

"Many of our FFP members carry excess baggage, especially during the peak summer season for various reasons such as students traveling to study abroad, families going on vacation, or just for extended travel. Now they don't need to pay; they can just redeem their earned miles against the excess baggage they carry. I am sure our FFP members will find this a great incentive.

"This is an additional service we're providing along with the ability to redeem miles to access our Falcon Gold Lounge when travelling in the Economy cabin which has gained popularity with our Gold and Silver members since its launch in 2009. Members can also redeem their miles for flight tickets and purchase upgrades for the same. We look forward to introducing even more innovative features in the future adding more value to our Frequent Flyer Programme" concluded Mr. Haywood.

This new facility allows Gulf Air's frequent flyers to redeem miles for extra baggage in individual blocks of 5 kilograms, varying from one zone to the next.

Gulf Air's frequent flyer miles are awarded based on the booking class and the number of miles flown, which are listed on gulfair.com; these miles can be redeemed at anytime. The airline offers one of the best loyalty programmes tailored to meet the passengers' needs with benefits that include a mile life of 3 years, excess baggage allowance, priority check-in, priority baggage handling as well as priority wait listing, if flights are full.