Alfa's style on show for PPQ at London Fashion Week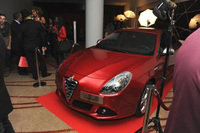 Alfa Romeo's stunning all-new model, the Alfa Giulietta, was selected as the official car for the PPQ fashion show and after party last Friday (17.9.10) to mark the launch of London Fashion Week.
Stars including singers VV Brown, Little Boots, Jamelia and Destiny's Child Michelle Williams were chauffeured to and from the show at Somerset House in a fleet of five door Giuliettas along with PPQ designer Amy Molyneaux, top American model Amber Rose and Vivienne Westwood model Tolula Adeyemi.
The PPQ fashion label was launched in 1992 by Molyneaux and Percy Parker and led the way for the drainpipe jean revolution dressing the likes of Peter Doherty and Amy Winehouse. The label sits among London Fashion Week's show calendar with continued success and celebrity interest.
For more information about the Alfa Giulietta, which recently hit our TV screens with an advert starring Uma Thurman, visit alfaromeo.co.uk.