Peugeot's EX1 electric record breaker is faster than a supercar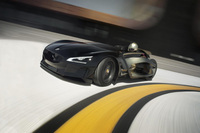 Peugeot's long history and know-how concerning electric vehicles was perfectly demonstrated at the Montlhéry circuit in France yesterday, when its EX1 concept car set six new world acceleration records for a vehicle weighing less than 1000kg.
Accelerating faster than a supercar, the all electric Peugeot EX1 smashed the ¼ mile, 500m and 1000m speed records previously set by Georg Von Opel in an Opel GT Electric in 1971.
Not content with just these three record runs, the car then went on to set three new speed records over 1/8 mile, ½ mile and 1 mile.
In setting these new records Peugeot has clearly demonstrated that electric vehicles have a lot of potential, and are not just city runabouts. Electric vehicles are clearly one solution to reduce carbon emissions, but they can also provide new levels of performance, unobtainable in conventional cars.
The EX1 is a two-seater roadster based around the design cues of a number of previous Peugeot concept cars. It is designed to be as efficient as possible in regards to weight, aerodynamics and propulsion. It is powered by two electric motors, one located at the front and the other at the rear of the vehicle. Together they produce a peak maximum power of 340 bhp with a constant torque of 240 Nm at the front and the rear. The instantaneous maximum torque produced by an electric motor is what provides the record breaking performance of the EX1. A strength which is not found in conventional internal combustion engined vehicles.
With the EX1 Peugeot has demonstrated that the electric car can stand for performance as well as environmental efficiency. The EX1 will be on display for all to see at Peugeot Avenue, 136 Avenue des Champs-Elysees, Paris from 22nd September to 14th November 2010.