Fiat Doblo Cargo crowned International Van of the Year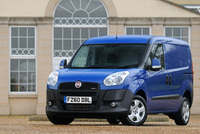 The undoubted success and ever-increasing popularity of the new Fiat Doblo Cargo was demonstrated last night (21 September) as it was crowned International Van of the Year 2011 at an award ceremony in Hanover, Germany.
The new van achieved 128 out of a possible 168 points, from a jury made up of 24 specialist commercial vehicle trade journalists representing the same number of countries.
The prestigious trophy was presented during a gala evening to mark the 63rd edition of the Hanover International Motor Show, the most important commercial and industrial vehicle exhibition in Europe.
Announcing the 2011 result, chairman of the International Van of the Year jury, Pieter Wieman, said: "The winning van design had impressed the jury on a number of fronts and above all by the fact that Fiat has succeeded in widening the number of platform and body varieties to a higher number than any other van in this category.
"The jury was particularly impressed with the wide range of engines. Furthermore it was impressed with the driving qualities and the high level of comfort that the different versions of the Doblo offer".
Lorenzo Sistino, Fiat Professional CEO, commented: "New Doblo Cargo has been an innovative vehicle right from its concept. With Doblo we offer our customers the widest choice, the lowest emissions and the most advanced technology in this category. The award is a testimony to our product innovation capacity. The fact that the Doblo has won demonstrates its level of innovation, but also the extent of the changes in order to respond to new customer needs".
Gerry Clarke, Director of Fiat Professional UK, said: "We have been enjoying a high level of interest from customers and the media in new Doblo Cargo since it was launched in the UK in March this year. It has already been widely acclaimed, and the International Van of the Year title is a wonderful accolade."
Available with a choice of four low emissions, Euro 4 and 5-specification engines, the new Doblo comes in seven different forms – Cargo, Cargo Maxi, Cargo SX, Cargo Maxi SX, Combi, Combi Maxi and Platform Cab – to offer something for a wide spectrum of van users.
The engine line-up comprises a 1.4-litre 16v 95bhp petrol unit and three MultiJet 16v diesels – 1.3 (90bhp), 1.6 (105bhp), and 2.0 (135bhp). Prices start at £11,305 (exc. VAT) for the Doblo Cargo 1.4 16v Petrol.