Infiniti M35h powers the hybrid into a new era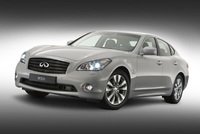 A high performance V6 sports sedan with a hybrid half that makes motoring with zero tailpipe emissions more pleasurable than ever is set to headline on the Infiniti stand at the 2010 Paris Motor Show. The production-ready Infiniti M35h stands out for all the best reasons, not least the fact that the first European deliveries are set to start next Spring when Infiniti will offer luxury sedan buyers a choice of V6 petrol, V6 diesel and V6 petrol/electric hybrid powertrain options.
Infiniti, Japan's newest luxury automotive manufacturer, is using the biennial Paris exposition to showcase its first hybrid and publish eagerly-awaited technical details and figures.
They will confirm why Infiniti has dubbed the M35h "the driver's hybrid" for its high power output, Infiniti Direct Response Hybrid technology and strong rear-wheel drive bias to looks and driving feel:
Acceleration: 0-100 km/h in less than 5.9 seconds*
CO2 emissions: less than 170 g/km*
Top speed (limited): 250 km/h*
Combined fuel consumption: 7.3 l/100km (38.6 mpg)*
(*All figures subject to final homologation)
All of this is delivered in a large (4945mm long) four-door, five-seat sedan with an exceptionally aerodynamic body complementing classic long bonnet/short tail sports saloon proportions and a flowing, muscular design penned with characteristic Infiniti passion. The spacious, soft-feel interior is inspired by natural materials, traditional Japanese crafts and high technology. The M35h will be available in base and luxury GT forms, with the top GT Premium model fully equipped as standard and featuring several class-first technologies.
Key to the M35h's Inspired – and green – Performance is an innovative yet elegantly simple petrol/electric drivetrain which ensures zero-emissions electric propulsion is used more often, for longer periods and at higher speeds than in existing hybrids.
The M35h can cruise on electric power alone at a constant 80 km/h on a level highway. Electric mode only can be utilised at speeds as high as 140 km/h on a trailing throttle. In slow-moving traffic the M35h can silently glide on electric propulsion for up to 2 km. Tests have shown that, in mixed diving, the M35h is able to drive in electric only mode for as much as 50% of the time.
Being an Infiniti, there is never any shortage of acceleration when it is needed. The 3.5-litre petrol V6 delivers 225 kW (306 PS), backed up by 350 Nm of torque at 5000 rpm. The electric motor is rated at 50 kW (68 PS) and provides high torque from zero rpm, peaking at 270 Nm at just 1000 rpm, ensuring dynamic performance from standstill.
The M35h deploys its power in a manner entirely in keeping with Infiniti's sports handling philosophy for maximum driver satisfaction. Both petrol V6 and electric motor deliver their power to the rear wheels via a 7-speed automatic transmission. This is notable for having an electronically controlled clutch rather than a torque converter, enhancing responsiveness and reducing fuel consumption over the M37 by up to 10%.
A new electric/hydraulic power steering system saves another 2%. The single electric motor and lithium ion battery pack boost efficiency further by helping keep the weight gain over the M37 down to about 120kg. The batteries are under the boot floor but the M35h is one hybrid sedan with practical luggage room, the boot able to accommodate four golf bags or two A-size suitcases.
On sale across Europe from spring 2011 (depending on country), the M35h joins the petrol M37 and diesel M30d as a unique three-way offering in the European executive car market. Prices and specifications will be announced in the new year.