Infiniti's traffic-stopper glides into London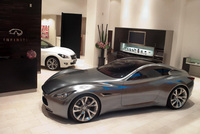 The car that sums up everything about Japan's newest luxury automotive manufacturer in one breathtaking package goes on display in London today. The Infiniti Essence, one of the most admired concept cars of recent years, is the latest attraction in the heart of the capital where it takes pride of place for the opening of Infiniti's newest Centre, 77 Piccadilly.
The 592bhp supercoupe will have plenty of opportunity to demonstrate its traffic-stopping style from inside the glass-fronted and highly contemporary Infiniti Centre – the 37th in Europe – on one of London's busiest and most pre-eminent thoroughfares.
It is the first opportunity Londoners have had to see Essence up close, along with its production siblings including the all-new M Line. On sale now and priced from £35,150, the M doesn't just inherit some of Essence's athletic grace but also, from next spring, its innovative petrol/electric hybrid drivetrain, in addition to V6 petrol and V6 diesel models now available.
One of the most talked-about concept cars, Essence was always far more than just a concept car to Infiniti. Commissioned to mark the performance luxury brand's 20th anniversary, Essence is as much a design and technology testbed as it is a celebration of 'Inspired Performance' and the craftsmanship and passion underpinning it.
Essence made its world debut at the Geneva Motor Show in 2009, just six months after Infiniti was first launched in Europe, providing Europeans with a spectacular introduction to the brand 20 years after Infiniti was first launched in the USA.
The car was designed by a team under the leadership of Senior Vice President of Design, Shiro Nakamura, recently ranked third most influential car designer in the world by Car Magazine. Essence builds on Infiniti cues and the brand's trademark sporting proportions while introducing a new design language. This incorporates an acclaimed interpretation of wind and wave forms, public reaction to which has guaranteed its place within Infiniti's design lexicon, as one look at the new M Line shows.
Inside, Essence demonstrates the driver focus integral to all its models, along with a minimalist yet luxurious approach to interior design and furnishings. Two aspects central to this are use of the best natural materials and traditional Japanese craftsmanship, both facets brought to life via the highest technology. As with the body design, the interior of Essence has already proven influential – with many more of its innovations yet to filter through to production.
The 4.7m long two-door even comes complete with its own bespoke set of luggage courtesy of a unique tie-up with one of the best-known names in luxury good, Louis Vuitton.
Essence previewed Infiniti Direct Response Hybrid technology before the name had even been coined. But the point behind the innovative one motor/two clutch system was always real enough, and Essence demonstrated it with devastating effect. Capable of unleashing awesome twin-turbocharged V6 power on the open road and then silently gliding through city streets with zero tailpipe emissions, the key to Essence's driver satisfaction is rear-wheel drive responsiveness and linear power delivery in all situations.
As the M35h hybrid, which uses exactly the same hybrid system, will be out to demonstrate when it goes on sale in the UK next spring.
As befits such a technological tour de force, Essence previewed safety technologies which are today making Infiniti production cars among the most advanced on the roads. "Blind Spot Intervention™, a system which helps ensure the Infiniti cannot stray into the path of vehicles coming up from behind by gently applying the brakes on one side, is a world-first feature on the M Line saloon in Premium form. Essence's other headline safety technology, Back-up Collision Prevention, is not in production. Yet...
One of hardest working concept cars, Essence arrives in London as part of an ongoing tour that has seen its voluptuous shape draw crowds around the globe. A star at many motor shows from Geneva to New York, Moscow to Barcelona, Essence has toured the USA and visited China and Korea. It has been the subject of film and photo shoots across Europe and wowed enthusiasts at some of the world's highest profile car gatherings, such as the Goodwood Festival of Speed and concours d'elegance events at Italy's Villa d'Este and, in the US, at Pebble Beach. After London, Essence will be heading back to the US for the Los Angeles auto show and then on to the Middle East.
The boutique-style Infiniti Centre at 77 Piccadilly is the second retail outlet to be opened in the British Isles during the past 12 months with distribution partner Rymco UK, after the unveiling of the inaugural Centre in Reading, Berkshire. The Centre is strategically situated on one of the most well-known and popular arterial streets in the capital, and only moments away from some of the city's most famous landmarks and designer stores.
The Central London premises will be complemented further next year by two standalone Centres in Chiswick and Hatfield, in addition to Leeds and Stockport opening in the North of England. These follow bespoke Birmingham and Glasgow sites that will commence sales later this year.
As with all of the manufacturer's outlets across Europe, Infiniti's distinctive Japanese brand ethos and attention to detail is instantly apparent at 77 Piccadilly. Every client is immediately greeted by a spacious, relaxed and welcoming ambiance, more reminiscent of a refined boutique hotel than a typical dealership, and a taste of the unique, rewarding, and stress-free Total Ownership Experience enjoyed by the Infiniti customer.
The 203 square-metre three-car showroom has been designed and furnished using the highest quality sustainable materials which reflect the craftsmanship, state-of-the-art technology and 'Inspired Performance' philosophy which flow through the Infiniti retail network and model range.
The first European Infiniti Centre was opened in Paris on 1 October 2008, followed by Centres in major cities including Madrid, Barcelona, Valencia, Milan, Athens, Antwerp, Warsaw, Rome, Tel Aviv, Zurich, Rotterdam, Sofia, Amsterdam, Prague, Padua, Brussels, Geneva, Budapest, Istanbul, Reading, Hamburg, Bologna, Bucharest, Lyon, Dresden, Zagreb, Kattowitz and Cannes.
Essence will be on show at 77 Piccadilly only until Sunday. Examples of Infiniti production models – the G Line of Saloon, Coupe and Convertible with electrically retractable hard-top, the EX coupe crossover, the FX performance SUV and the new M Line – will be there for considerably longer than that.