Maserati supports the Jodie Kidd Foundation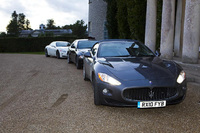 Maserati was proud to support the Celebrity Ryder Cup Golf Day which took place on the wonderful Goodwood course last week to raise funds for the Jodie Kidd Foundation.
The Foundation, created in 2006 by Maserati ambassador, super model and TV presenter Jodie Kidd, supports charities such as Greatwood, the NSPCC and the Monsoon and Accessorize Trust which mainly focus on helping disadvantaged children, both in England and abroad.
Many celebrities answered Jodie's call and took part in the event: amongst them fellow Strictly Come Dancing contestant (and winner) actor Tom Chambers, comedian Rob Brydon, Jamie Redknapp, Jodie's brother and professional polo player Jack Kidd and also Jonny Gould, MC for the evening.
At night the Charity auction, which also included a chauffeured Maserati for a luxurious day of Christmas Shopping and a ride sitting next to Jodie up Goodwood Hill during the 2010 Goodwood Festival of Speed in the brand new Maserati GranTurismo MC Stradale raised over £50,000 in aid of the Jodie Kidd Foundation.