Mitsubishi i-MiEV - icon on a mission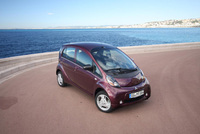 Making the best use of the mid-ship architecture of this new urban vehicle, the electric "i" or "i MiEV" then was announced in October 2006 as a research vehicle powered by a compact and lightweight motor and high-energy density lithium-ion batteries.
Less than 3 years later, once a thorough development process was completed accumulating over 500,000 km of testing, the car was launched in Japan as "i-MiEV" in July 2009 first with fleet customers. Books were then opened for private customers as well, the first deliveries to this second wave of Japanese clients taking place from April 2010.
The next commercial step starts today in Paris, prior to a start of production at MMC's Mizushima plant in October. Deliveries to European customers will then start in 14 selected markets1 from December 2010, depending country by country.
40 years of EV know-how at Mitsubishi
When announced as an EV research vehicle back in October 2006, the then non-hyphened "i MiEV" was the outcome of forty years of research and development at Mitsubishi in the area of electric powertrain.
As a reminder, work on the development and production of EVs started at Mitsubishi in October 1966, when Mitsubishi Heavy Industries Ltd (In 1970, the automobile division of Mitsubishi Heavy Industries Ltd. was spun off to become today's Mitsubishi Motors Corporation) was commissioned by Tokyo Electric Power Company (TEPCO) to build EV prototypes and conduct testing programs using improved battery technology: an inaugural EV program that was followed by several others, all laying the foundations for today's i-MiEV production car.
Mitsubishi Motors was also one of the first auto manufacturers to recognize the superiority of the lithium-ion battery over lead-acid batteries in terms of energy and output densities as demonstrated through the development in 1994 of the Chariot HEV plug-in hybrid, itself followed by various and successive testing programs to seek further improvements in performance, safety, reliability and durability.
Over 500,000 km of thorough testing
With the intention of moving the then "i MiEV" into commercial production Mitsubishi Motors carried out a number of in-house testing programs where the car sailed through, including extensive poor surface track, durability and reliability and crashworthiness.
In parallel, i MiEV went through a process of acquiring data through extensive fleet testing under a variety of climatic and real driving conditions. As an example, in Japan, a year-long joint proving program with 7 Japanese power companies using 37 development cars was carried out, covering a total of 300,000 km of testing and everyday commercial use.
The same process was engaged outside of Japan as well. In the case of Europe, 11 cars were used for a further 200,000 km of testing in a joint effort among Mitsubishi Corporation, its MC Automobile (Europe) N.V. subsidiary, Mitsubishi Motors Corporation and Mitsubishi Motors Europe towards European customers, be they corporate or private.