Fiat Professional's The Fleet campaign wins top award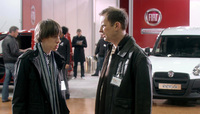 A new approach to marketing, in which a van advertisement took the form of an hilarious sitcom, has just won Fiat Professional a top industry award.
The Fleet, a clever farce starring top comedy actor Phil Cornwell, was commissioned in March by the commercial vehicle arm of Fiat Group Automobiles UK, to launch the new advertising approach.
Now it has scooped the Best Marketing Campaign honour at The Blades, an awards programme designed to showcase agencies' talents. The programme measures all advertising campaigns in the automotive sector, including passenger cars and commercial vehicles, so the result is particularly important.
"I am delighted we have won this prize as we had a lot of faith in the Fleet campaign," says Gerry Clarke, director, Fiat Professional. "It was such an innovative step forward for van advertising and we were pleased with the reception it received from customers and the media. To win a top award such as a Blades category is further proof of just how good the campaign was."
The first episode of The Fleet was aired on national TV in March in a special commercial break during News At Ten, and was followed by a series of 3-4 minute episodes broadcast on the Internet (lightfootlogistics.co.uk). The campaign was devised for Fiat Professional by marketing specialist krow.
It followed the trials and tribulations of Pete, played by Phil Cornwell, the fleet manager of Lightfoot Logistics. The hilarious script carried a strong marketing message from Fiat Professional.
Fiat was also nominated at The Blades for its innovative live music campaign, Evo Music Rooms.