Chevrolet stars go head-to-head in comical driving challenge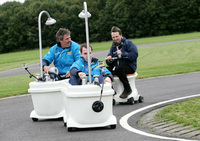 Ahead of the Dunlop MSA British Touring Car Championship's end of season showdown, there's nothing that Silverline Chevrolet drivers Jason Plato and Alex MacDowall like more than to relax in a hot bath.
So hot, in fact, that the bath has a three-spoke sports steering wheel! What more would you expect from two of the BTCC's most charismatic racers?
In order to celebrate a fabulous first season in the BTCC, the two Chevrolet Cruze drivers decided to have a battle of their own on a disused airfield, but instead of getting behind the wheel of their cherished racing cars, they were set head-to-head challenges, hosted by ITV Sport commentator Ben Edwards – known to fans as the voice of BTCC.
"Some of the challenges were bonkers," said Edwards. "And for the first time in my career I got to commentate whilst sitting on the toilet…"
The challenges included jobs normally reserved for the backbone of the Silverline Chevrolet team – the crew at RML that keep the race team together each weekend of the season. Jobs such as changing the wheel on a BTCC car, which saw Alex MacDowall require the services of Bernard the Paramedic and his magic sticking plaster, and reversing the RML race transporter into a loading bay. Despite both drivers' best efforts, the truck still came off better than the cones…
"If it hadn't been for Bernard, I'd probably still be bleeding," said Alex, through a painful grimace.
Or how about blindfold driving, where both drivers were given points for directing each other into cardboard cut-outs of other BTCC drivers? Or seeing them get to grips with a car twice the age of Jason Plato and four times that of Alex MacDowall – a 1928 Chevrolet National AB Tourer – in an autotest alongside the much more manoeuvrable Spark supermini. The latter even has brakes…
BTCC drivers aren't renowned for being delicate, and they proved this by taking a Captiva round an off-road course, which culminated in the automotive equivalent of tightrope walking – precision driving it across two parallel bars.
"At one point they even stopped filming this bit," said Jason. "I was so determined to get it right that everyone fell asleep while I had my 39th attempt."
And finally, the bathroom challenge – who would clean up in this kami-khazi chaos? And how does Ben Edwards cope when a commentary box becomes commentary bogs?
To find out, visit chevroletbtcc.co.uk, where all of the challenges are available to view as short movies.