Renault Master and Megane Sport Tourer clear choice for Everest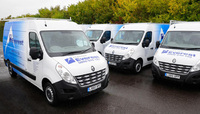 Everest has become the latest company to invest in Renault's New Master vans, as well as placing a sizeable order for Megane Sport Tourers and Hatches.
The nationwide glazing firm, which has been a household name in the UK for almost 50 years, has just signed up to a four-year solus deal with Renault, with the 77 vans being delivered throughout this month.
The New Master vans will be clearly visible in Everest's distinctive livery and used by their fitters who specialise in the installation of not only windows, doors and conservatories, but also kitchens and security systems.
New Master is the flagship of Europe's number one van marque and has been redesigned with a contemporary new look thanks to its prominent grille and headlights, one of the best ergonomically designed cabins in its class, as well as the availability of rear-wheel-drive models for the first time.
With a winning combination of good looks, impressive bootspace and practicality, twelve Megane Sport Tourers and three Megane Hatcheshave also been ordered and will be used by Everest's surveyors and managers.
Darren Stewart, Operations Specialist at Everest, said, "We chose Renault based on three main factors - their leading reputation for eco-friendly vehicles, the long warranty and because they offer a practical size for our requirements. The New Master vans and Meganes also met our needs for value-for-money and fuel-efficient vehicles."
Darren Payne, Renault UK's Director of Fleet and Commercial Vehicle Operations, said, "Many business customers have been won over by the New Master van as a result of is new look, fuel economy, comprehensive equipment levels and quality, as well as our class-leading Renault Business Promise.
"We're delighted that an established brand such as Everest, which needs practical and reliable vehicles to meet its daily business and customer needs, has given it and the Megane, a ringing endorsement by choosing it for its fleet."