Autumn sunshine attracts British buyers to France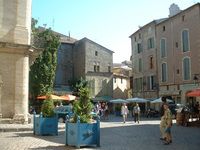 The French property market is enjoying a buoyant autumn according to the latest figures by house hunting expert My-French-House.com, confirming that the country is still the number one destination for Brits buying abroad.
A rise in activity has been helped by fine weather on the continent, which has attracted lifestyle purchasers as well as property investors, who are being drawn in by attractive and often reduced prices.
France accounts for more than 40 per cent of all mortgage enquiries for British buyers investing overseas and the recent rise in activity reported by My-French-House.com shows the country's popularity is holding firm.
Patrick Joseph of My-French-House.com said potential buyers were attracted by the stability of the French market at a time when house prices in other parts of Europe remained volatile.
"Buyers are looking for somewhere they can get away to easily for weekend breaks and holidays but they also want properties that have good rental potential and represent value for money and security for their investment."
Mr Joseph said the Languedoc region was a popular location for British buyers, particularly the areas around Beziers, Carcassonne and Perpignan, mainly because they have direct flights to the UK.
"The Languedoc's short winters and long summers have always attracted British holidaymakers, investors and house buyers.'
For more information, visit my-french-house.com.