Gulf Air's Basra and Isfahan service launches delayed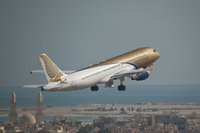 Gulf Air has announced that the proposed launch dates of its services between Bahrain and Basra and Bahrain and Isfahan have been deferred.

Services to Basra will now commence on Sunday 5th December while Isfahan service will be launched on Thursday 9th December.

The postponement has become necessary as there are some procedural and administrative delays in getting necessary permissions to commence the service as scheduled.

While Gulf Air regrets any inconvenience this may cause to its customers, a dedicated Gulf Air team is working hard to complete all formalities to launch the service without any further delay.

Passengers who had already booked on these flights are being contacted by our Customer Services team to advise customers of the alternate options available.

Service to Addis Ababa will be launched on 6th December as planned.