Keep gifts safe when visiting Christmas Markets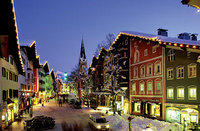 Leading travel insurance website, insurewithease.com, is advising savvy UK shoppers heading across the Channel to buy gifts at Christmas markets to ensure they have adequate travel insurance to cover items broken or damaged on the trip home.

Insurewithease.com is offering a guide to the best Christmas markets and urging shoppers to pack their purchases carefully to avoid disappointment on Christmas Day.

"Christmas markets are a great way to visit a European town and pick up some unique, hand-crafted items in a relaxed environment," says Sarah Findlay, Online Marketing Manger for insurewithease.com. "However, travellers need to use some common sense when it comes to packing their items, as they could easily get damaged on the journey back to the UK."

Insurewithease.com advises shoppers to get stall holders to wrap things in tissue paper or a box if possible. But then they should make sure gifts are wrapped in a jumper or something soft and bulky, rather than just stuffed in the case at the last minute.

The Platinum policy for single trips offered by insurewithease.com covers possessions to the total value of £2,500 with a single item limit of £500. This includes gifts purchased outside of the UK, even food stuff. However, it does not cover fragile items, so leave the French crystal chandelier and opt for a gift that will travel well.

Findlay concludes, "Nobody wants to return home from a fabulous Christmas shopping trip to find broken and smashed gifts when they open their case. Travellers should make sure they buy presents that are easily transported and pack them carefully or take them as hand luggage. Should the worst happen and gifts are damaged or stolen – then a good travel insurance policy will make sure everyone has something to open on Christmas Day."

INSUREWITHEASE.COM'S TOP CHRISTMAS MARKETS

Tallinn Christmas Market, Estonia | 27 Nov – 09 Jan
There will be 64 wooden stalls selling curiosities such as felt hats, sea-grass animals and beautiful hand-sewn quilts plus tasty fresh grilled meats, cakes and the sweet but potent local liqueur, Vana Tallinn.

Montreaux Noël Christmas Market, Switzerland | 25 Nov – 24 Dec
Situated on the shores of Lake Geneva and features 150 artisans and merchants in festively-decorated chalets.

Tivoli Christmas Market, Denmark | 15 Nov – 29 Dec
60 brightly decorated stalls selling locally produced goods such as wooden pixies and Copenhagen porcelain. It is almost essential to visit Tivoli after dark as it transforms into a winter wonderland with 10,000 metres of white lights illuminating the park.

Budapest Christmas Market, Hungary |19 Nov – 29 Dec
100 wooden pavilions offering special gifts and unique hand-crafted Hungarian objects approved by the Association of Hungarian Folk Artists.

Lille Christmas Market, France | 24 Nov – 30 Dec
Over 80 chalets selling everything from French delicacies, decorations, jewellery, gifts and toys. Highlights include the huge Ferris wheel erected in the main square and Father Christmas dramatically descending from the Chamber of Commerce's 80 metre-high Belfry on the 19th December to hand out sweets.

Christmas market river cruises
If you're having trouble deciding which market to visit perhaps a Christmas market river cruise is the answer. There are a number of companies that specialise in Christmas market river cruises in Europe. Luxury river cruise company, Tauck, offers an 8 day Danube or Rhine cruise which captures all the magic of the markets of Germany, Austria and France from £1284 per person.