Vauxhall Accessories includes more infotainment products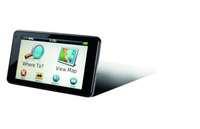 Vauxhall's Genuine Accessories range now includes an extensive selection of infotainment products to make your ride from A to B safer and more enjoyable.
For hands-free connectivity, the Bury Bluetooth phone kits with DialogPlus voice control can support up to ten handsets and 15,000 contacts. Starting with the portable Bury CV9040 phone kit with a windscreen mount, the kits feature an intuitive touch screen interface and text-to-speech which will read your text messages aloud (network/phone dependent). Integrated Bury Bluetooth phone kits are also available including the top of the range Bury Music, which adds direct iPod control to Bluetooth connectivity.
Ranging in price from £160 to £330, all come with a two or three year warranty.
For those looking for iPod connectivity, Vauxhall Retailers have the ideal solution. The i-Connect FM, plays your favourite tunes through the vehicle radio using an FM frequency modulator, while also charging your iPod battery.
Along with a number of other exciting accessories including Garmin satellite navigation units and fully integrated multimedia units, Vauxhall Retailers have a range of options to help ease your journey.
For more information, visit vauxhall-accessories.com.