Safestyle takes delivery of 170 Renault Master vans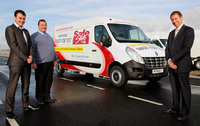 Nationwide home improvements company Safestyle UK has taken delivery of 170 New Renault Master vans, thanks to a helping hand from Expense Reduction Analysts specialist fleet division - ERA Fleet Cost Management Ltd.
Operating nationwide, Expense Reduction Analysts is a global leader in cost, purchase and supplier management. They work with clients across the private and public sector utilising their expert knowledge and expertise in more than 100 cost categories - to drive efficiency, reduce core costs and to advise on best practice strategies.
ERA Fleet Cost Management was challenged to improve upon the results of market negotiations that Safestyle had already undertaken. Naturally, the shortlisted vehicles would be required to offer the staple combination of impressive fuel economy and payload, plus the highest levels of comfort, space and driveability.
New Master is the flagship of Europe's number one van manufacturer range and has been redesigned with a completely new look and one of the best ergonomically designed cabins in its class.
Now that the first of the 170 vans are being delivered by Renault UK, ERA Fleet Cost Management has confirmed that savings of over 16% have been achieved on Safestyle's fleet operation costs.
Sean Bingham, Principal Consultant at ERA Fleet Cost Management Ltd said, "We assist our clients in driving efficiencies project by project and look to provide solutions on a bespoke basis.
"Key to a successful solution for Safestyle was not just like-for-like cost reduction, but advice on providing a vehicle that would more appropriately meet their operating requirements. The move to the newly-launched Renault Master front wheel drive van resulted in greater payload, load length and load height over the current installation vehicles. Following a demonstration on site of the new Renault Master's capabilities, Safestyle readily agreed that it was the most appropriate and cost efficient vehicle for their installation teams."
Commenting on yet another large fleet deal, Renault UK's Director of Fleet and CV Operations, Darren Payne, said, "Having been evaluated by ERA, Safestyle's fleet of New Master Vans has already passed a rigorous set of criteria to ensure it's the best possible value. Launched earlier this year with even greater loadspace, fuel economy, not to mention style, we believe they represent a great choice for any fleet."