New automotive group puts the M in Birmingham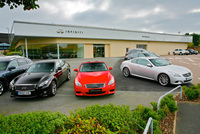 Some of the UK's most experienced premium-car retail and service professionals have been hand-picked to run the latest Infiniti Centre in Birmingham, set up by new Infiniti retail partner Mana Premiere Automobiles Ltd (MPA).
Infiniti Centre Birmingham is the third Centre to open in the UK since the luxury brand from Japan arrived here a year ago. It opens with perfect timing – just as the all-new M high performance V6 diesel/V6 petrol saloon goes on sale. Conveniently located at Bordesley Circus, just 15 minutes from the M42, the Centre is the latest example of Infiniti's signature "boutique hotel" style retail environment.
Infiniti's arrival in the heart of the West Midlands comes hard on the heels of Centres in Reading and London, at 77 Piccadilly. Infiniti Centre Glasgow, like Birmingham being operated by MPA, is just weeks away from opening, while MPA's Infiniti Centre Stockport and Infiniti Centre Leeds, both currently under construction, are due to open their doors in 2011.
MPA, a wholly owned subsidiary of the Saleh Alhamad Al Mana Co in Qatar, is looking at adding further Centres in South and East London, Cambridge, Bristol, Newcastle and Nottingham. The UK group is being headed up by former Porsche Retail Group Centre Principal Paul Westaway. Paul's appointment as MPA Operations Director leads an impressive roll-call of premium car specialists who have joined Infiniti in the UK. Other members of the management team include sales, after-sales and customer relations professionals with experience of working with companies including BMW, Pendragon, Jaguar and Sytner.
Elegant and welcoming with the calm comfort of a top boutique hotel, Infiniti Centre Birmingham introduces a new standard of customer care into prestige car retailing in the UK's second city. Behind its glass frontage is the same spacious lobby/lounge/showroom which characterises every Infiniti Centre. The accent is on the highest quality sustainable materials to reflect the craftsmanship of the model range. Complete with bespoke leather furniture and original art works, each Centre aims to provide a taste of the stress-free Total Ownership Experience that is enjoyed by every Infiniti customer.
Located at 110 Small Heath Highway (postcode: B10 OBW) and occupying a prominent site right at Bordesley Circus, Infiniti Centre Birmingham is just on the outskirts of the city, easily reached via the A45 past Birmingham Airport, just 15 minutes from the M42. The Centre boasts a six-car showroom and five-bay workshop that includes Pro-Align advanced wheel alignment systems for specialist work on the high performance all-wheel drive models that make up such an important part of Infiniti's range.
"The Centre is unique in Birmingham and will offer West Midlands premium car buyers a whole new customer service experience," said Al Mana UK's Bill McMaster, who is charged with setting up MPA's Infiniti Centres in the UK.
"It has been challenging to meet the stringent standards Infiniti demands because the Centres are not just designed for selling cars but for providing unrivalled customer service. It's so refreshing to have experienced this unique concept and I am confident the UK's newest Infiniti Centre will also be one of the best in Europe."
In line with Infiniti's philosophy, key staff come with extensive premium car expertise. Operations Director Paul Westaway, for example, has experience of working with Audi, Mercedes-Benz and BMW prior to joining Porsche seven years ago. Others to have seen the Infiniti light include:
David Bourne: Financial Director, who joins MPA following 16 years' automotive experience at the Midlands-based Rybrook Group, where he was Group Financial Controller and IT Manager.
Chris Codd: Sales Manager, who joins with 26 years' experience of the automotive retail business. Chris's previous job was with Pendragon PLC as a finance and insurance development leader covering 25 retail dealerships throughout the UK.
Philip Green: Service Manager, with more than 20 years' experience of premium brands in the UK, USA and Middle East.
Donna Phelps: Customer Relations and Marketing Manager. Donna joins with more than 15 years of experience including managing the Customer Contact Centre for Sytner Group and working as Customer Relations Marketing Manager for premium brands within the large Al Futtaim Group based in Dubai, UAE.
Working closely with both its retail partners, Rymco UK (operator of both Reading and Piccadilly Centres) and MPA, Infiniti is on course to having 14 UK Centres, all strategically situated to ensure the vast majority of the UK's population is within easy reach. Even those who are not will never feel far from Infiniti thanks to bespoke five-star customer service that includes free collection and delivery (within a 150-mile radius) for cars due a service. Each customer is assigned their own Customer Account Manager to ensure all arrangements are made with minimum inconvenience.