Limited smart fortwo pink passion up for auction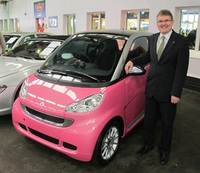 BCA is auctioning one of just 100 smart fortwo pink passion cars to help raise money for a leading cancer hospital. The sale takes place at 1.00 pm on Monday, 22 November at BCA Blackbushe.
Just 85 coupes and 15 convertible examples of the limited metallic pink smart fortwo cars have been produced and are being snapped up by eager buyers throughout November. For every car sold, Mercedes-Benz donates £100 to Breast Cancer Research.
However, BCA Blackbushe is offering just one of these highly desirable cars to help raise money for the Royal Marsden which operates specialist cancer hospitals in Chelsea and Sutton. Every penny that the car sells for over its basic list price will go straight to the Royal Marsden Cancer Campaign, a charity which funds research into cancer cures and respite treatments.
The event is the brainchild of car dealer Fred Andy who was treated by the Royal Marsden in 2009. He said "The surgeons, doctors and nursing staff at the Royal Marsden do marvellous work in the most difficult of circumstances and their dedication and kindness is an example to us all. Having been treated at the Sutton Hospital myself last year I am delighted to have the opportunity to give something back and the sale of this very limited and highly desirable car will hopefully raise a good sum for the Royal Marsden Cancer Campaign."
He continued "I would like to thank British Car Auctions for offering their services free of charge, Stratstones Leeds for supplying the car and Mercedes-Benz for offering much help and support in my endeavours."
James Gibson BCA Blackbushe Manager, added "These smart pink passion cars are extremely limited and we are pulling out all the stops to raise the maximum amount for the Royal Marsden Cancer Campaign."
See the BCA website, british-car-auctions.co.uk, for a full listing, pictures and more information.