Proton Exora hybrid bags award at Brighton-to-London rally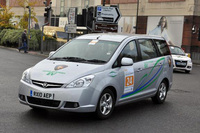 Proton's Exora Extended Range EV won an award in the best range extended electric vehicles category during the inaugural Brighton to London future car rally on Saturday, giving a boost to the company's effort in the production of eco-friendly cars.
In the event, organised by the Royal Automobile Club for eco-friendly cars, 64 cars including Proton's Saga Electric and Exora Extended Range EV took part to demonstrate the use of the lowest amount of energy possible.
The rally started from Madeira Drive on the East Sussex seafront and arrived in central London at 8am, with the Exora arriving at 12.10pm London time.
Proton's managing director, Datuk Syed Zainal Abidin Syed Tahir, who was at the finishing line in Waterloo Place to meet the arrival of the Exora and the Saga, was jubilant with the award as it demonstrated that Proton could compete with other car companies.
"This win is really unexpected but it proves that the technology that we have now can compete with others. It is indeed a moment to be proud of," he said after the award was announced in Regent Street which was closed to traffic for the carnival-like occasion, heightened with the presence of vintage cars preparing for their annual London to Brighton rally.
He added that the rally had provided a good platform to not only introduce Proton's technology but the Proton brand in the UK.
"What is important for us now is to ensure that the Exora hybrid can be mass produced. This win has given us that motivation," he added.
He said Proton and the Malaysian government are discussing the production of hybrid and electric cars and he hoped that this would be the trend to reduce CO2 and fuel consumption.
Exora's driver, software engineer Steve Riches who received the award, said the drive was very smooth and comfortable while co-driver, Rozadatul Intan Safrina Che Rus, a component and commissioning engineer with the green technology department, said all the hard work and working as a team with Frazer Nash and other departments had paid off.
"This is an opportunity for Proton to go even further," she said.
Driver of the Saga, Noamann Siddique, an engineer with Frazer Nash who designed the battery management's system for the vehicle said they had a lot of advantage over other cars participating in the event.
"We arrived here in good time with a lot of energy to spare," he said after the race.
The event ended with a display of all participating cars alongside vintage cars which were taking part in the London to Brighton rally yesterday.