West Midlands is flush with sustainable new homes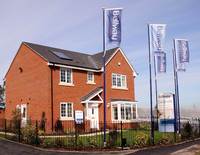 Bellway has opened the doors to its latest stunning showhome, allowing homebuyers in the West Midlands the chance to see just what life would be like living at the housebuilder's popular Oaklands development.
Situated just a few miles away from the historic market town of Castle Bromwich and ideally located for commuters, Oaklands is perfect for those wishing to enjoy both a quieter rural setting, whilst still being within easy reach of both Birmingham and Solihull.
And now, at the heart of the development, Bellway has launched its new Beckett style showhome - a generously-proportioned, four bedroom detached property set to showcase how family living can be both effortlessly stylish, but still meet the green standards demanded in modern society.
The property, which is on the market for £249,995, has been built with sustainability in mind and has many notable features including solar panels on the roof, and a rainwater re-use system, which harvests rainfall, stores it in an underground tank and re-uses it in household applications.
The underground rainwater tanks made by Wavin, a UK leader in intelligent stormwater solutions, can bring a significant reduction in the use of water within the home and offers savings of up to 50% in water consumption.
The systems are suitable for non-potable domestic applications or garden irrigation, and can achieve and retain excellent water quality with a minimum of maintenance.
Stephen Rose, Sales & Marketing Director from Bellway Homes commented: "We understand that the demands of the homebuying public have changed over recent years and it has become more important than ever to provide properties that will offer a sustainable and affordable way of life way into the future.
"It's for this reason that we've included products such as the rainwater re-use system on all the properties on this development, as they will provide a cost efficient solution to water usage, and also cut carbon emissions in the long term.
"The Beckett is a really striking property and is a prime example of the quality of life homebuyers could have living at Oaklands"
Oaklands offers a wide range of two, three and four bedroomed family homes from prices starting at £152,000, and benefits from its close proximity to the M6 and M42, and Water Orton train station which is just a short distance away.
The development forms part of the Regenerating North Solihull project is set to help over 40,000 people living in the area by providing new housing and improved community facilities.
Anyone who would like to find out more about Oaklands, and the properties available for sale can visit the Sales Information Centre on Friday to Monday, 10.30am to 5pm, or Thursday 10.30am to 7.30pm.