Proton wins Best Range Extender EV in Future Car Challenge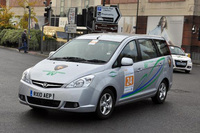 Malaysian car manufacturer PROTON, which has a franchise portfolio of 101 dealerships throughout the UK, has had cause to celebrate having won the 'Best Range Extender Electric Vehicle' category with its Proton Exora Extended Range Electric Vehicle in the inaugural Brighton to London Future Car Challenge.
Setting off from Brighton at 8am on 6 November, 64 competing cars from the world's most recognised carmakers and individual parties took part in the Challenge, and drove the 91.2km to London, arriving at around 12 noon following a mandatory stop in Central Sussex College, Crawley.
Driven on normal roads and under legal driving conditions, Proton's seven-seat MPV achieved a remarkable average fuel consumption of just over 123MPG. The Exora Extended Range Electric Vehicle emerged as the winner in its category after consuming only 2.2 litres of petrol during the entire Challenge, going head to head with a more prominent name in the global green automotive industry.
PROTON participated with the Saga Electric in the EV category and Exora Extended Range EV in the E-REV category.
The Challenge, organised by the Royal Automobile Club, is a motoring contest for Electric, Hybrid, and Low-Emission Internal Combustion Engine passenger cars. Winners were based on cars with the lowest consumption on the 91.2km drive from Brighton to London. The different categories available for the Challenge were the Full Electric (EV), Hybrid (HEV) and Extended Range EV (E-REV) and Internal Combustion Engine (ICE) with up to 110g/km Co2 emission.
Simon Park, General Manager for Sales and Marketing for PROTON in the UK commented: "Proton is committed to the development of export markets and is concentrating on the development of a new range of conventional; hybrid and electric vehicles to meet growing demand.
"We have already enjoyed success in the UK with our popular GEN-2 ecoLogic and are seeking to further broaden our appeal to the environmentally minded consumer. Combining the reliable and low maintenance benefits of a new car, with the money saving and eco-benefits of LPG (liquid petroleum gas) fuel, the Proton GEN-2 ecoLogic is the ideal choice for cost and carbon conscious car owners."
PROTON's entry into the Future Car Challenge was a collaboration with one of its technology partners, Fraser-Nash Research Limited.