HomeBuy Direct helps Liverpool's first time buyers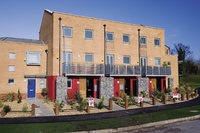 Dreams of homeownership have been coming true for residents of South Liverpool with the help of HomeBuy Direct.
The Government-backed scheme is available on selected contemporary properties at Redrow's Cressington Heath venture near Garston.
It enables certain groups of purchasers – including those starting out or starting over – to snap up a brand new home at a fraction of the cost with the help of an equity loan, jointly funded by Redrow and the Homes and Communities Agency.
Keith Cunningham and his partners Corinne Parkes took advantage of the scheme to buy their first home.
Keith, a partner in an events management company, and Corinne, a primary school teacher, became aware of HomeBuy Direct after driving past Cressington Heath. They were already interested in buying a brand new home and were delighted to discover they were eligible for the valuable help.
"We had looked at second hand homes but every property needed something doing to it. We decided to look at new builds because everything is ready to go without any work required. It gives you a clean slate," Keith commented.
"HomeBuy Direct is a really good way to get on the property ladder and was really straight forward and simple. Because of the help available we were able to buy a larger house than we expected – the 'Faygate'. We really liked the layout and because it's set out over three floors it's a bit different."
After years of wasting money on rent, Rachel and David Clarke moved in with relatives while they saved for a deposit for a home of their own. When they found out about HomeBuy Direct they realised they could move sooner than they expected.
"We didn't have a clue about buying a house but Redrow, our financial advisor and the HomeBuy agent were excellent – all we had to do was pay the money and sign some forms," Rachel commented.
Rachel, a mental health staff nurse, and Dave, a production technician at the Liverpool Philharmonic, and their son Daniel, now two, bought a three-bedroom, 'Faygate' off plan.
"It was a really exciting time but really scary too – a bit like standing in the queue for a fairground ride," Rachel added.
With HomeBuy Direct a three-bedroom home at Cressington Heath, on the market at £169,995, could be purchased for an initial outlay of less than £119,000; while a four-bedroom property, priced at £182,995, could be snapped up for as little as £128,096.
HomeBuy Direct is open to purchasers who have an annual household income less than £60,000, including first time buyers, those re-entering the property market following a change in circumstances such as divorce or the breakdown of a relationship and potentially families needing room to grow.
Cressington Heath, off Garston Way, offers easy access to Liverpool city centre and benefits from a wealth of amenities on its doorstep. The development boasts excellent road and rail links, with a train station within walking distance, and is just two miles away from Liverpool John Lennon Airport.
For more information about HomeBuy Direct, eligibility and the properties on which it's available, visit the sales office at Cressington Heath and speak to the friendly team of experienced sales staff.