The Essence of luxury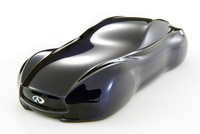 Infiniti, the Japanese luxury automotive manufacturer is proud to announce the production of a Limited Edition collector's "Essence Sculpture", inspired by the stunning Infiniti Essence concept car unveiled last year in celebration of the automaker's 20th anniversary. Made from solid resin, penned by the vehicle's original Infiniti designer, and supervised by Senior Vice President and Chief Creative Officer, Shiro Nakamura, the beautiful ornaments will be restricted to 300 individually numbered units worldwide.
After the actual concept car bespoke luggage, Louis Vuitton has created for Infiniti a carrying case for the specimen number one of the Essence Sculpture. This second collaboration with the world leader in luxury epitomizes Infiniti's quest for ultimate luxury and savoir-faire. For this special order, Louis Vuitton craftsmen have designed an original Louis Vuitton Damier Graphite design case to serve as a high quality, transport and presentation case for the first Essence Sculpture that will be on display at the global Headquarters of Infiniti in Japan. This case has been handcrafted in Louis Vuitton's historical workshop in Asnières (France), where all special orders are made to cater specific needs or to fulfil particular desires.