i-MiEV helps promote electric vehicle charging network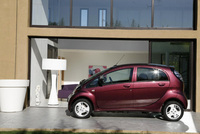 The Mitsubishi i-MiEV is being used to help promote the Mayor Boris Johnson's electric vehicle charging network, Source London, which is to go live in Spring 2011. Transport for London (TfL) welcomed four new Mitsubishi i-MiEVs into its fleet in June, part funded by the Government's Low Carbon Procurement Programme, as part of the Mayor's plans to make London the electric vehicle capital of Europe.
Managing Director, Lance Bradley commented: "We are delighted that the i-MiEV is able to assist in promoting the new plans for a standardised electric vehicle charging infrastructure in London. The 'one stop shop' solution to charging is vital to enable the roll out of electric vehicles."
Source London, which will deliver 1,300 public charging points across London by 2013, is part of the Mayor's plans for London to become the electric vehicle capital of Europe. The Source London network will create a single visual identity for electric driving across the capital, and allow members to charge their vehicles at any one of these public charging points for no more than an £100 annual membership fee. Currently electric vehicle drivers have to register in each separate borough they want to use charge points in. In preparation for this new network a website, sourcelondon.net, has also been launched providing a 'one stop shop' of information on electric vehicles, including charge point locations across the city. Once Source London has been launched in Spring 2011 drivers will be able to sign up for the scheme online.
The development of Source London, has been led by Transport for London in close collaboration with the London boroughs and a wide range of private sector partners – who will play a key part in funding and providing locations for the network's charge points. Discussions are now taking place with other UK cities developing charge point networks to ensure they can be used seamlessly by electric vehicle drivers and to ensure London's work can contribute to a national network of charge points. Transport for London has offered these cities the use of the trademarked Source brand which could mean the creation of a national network under a single identity.
The Mayor has recently reaffirmed a 100 per cent discount from the congestion charge for electric drivers in the capital, as well as other low emission vehicles, which offers electric vehicle owners using the zone a potential saving of more than £2000 a year.
The Mayor of London, Boris Johnson: 'Already there are more electric drivers in London than anywhere else in the UK, but we are now entering an incredibly exciting period in electric motoring. Major manufacturers are gearing up to launch more affordable, practical electric cars over the next few years, whilst the cost of traditional fuels are making petrol-free driving an increasingly attractive option. By opting for electric in greater numbers, Londoners will also help to cut pollution levels and improve the city's quality of living.
'Through the development of Source London, we are seeking to create the fertile conditions for electric vehicles to flourish to make our city the electric driving capital of Europe.'
Transport Secretary, Philip Hammond, said: 'Werecognise that for many people the car is an essential, not a luxury, and that is why we areprioritising spending on making the UK a world leader in ultra low emission cars. Following the first round of our Plugged-in-Places scheme, cities like London are laying the groundwork for a national charge point network.
'And thanks to our spending review settlement which secured over £400m for measures to promote the uptake of ultra-low emission vehicle technologies, more areas will soon be able to join them.'
The Mayor's transport advisor,Kulveer Ranger, attended the RAC Future Car Challenge, an event to promote the use of greener vehicles to unveil a Transport for London electric vehicle (Mitsubishi i-MiEV) wrapped with the new Source London identity. He said: 'Source London will make it far easier for people to charge electric vehicles in the capital removing one of the biggest barriers to ownership and giving a big boost to this fledgling market. With our offer to allow other cities to use the Source brand the Mayor's work on electric vehicles heralds the start of an electric revolution here and further afield.'
David Brown, Managing Director of Surface Transport, TfL said: 'When complete, the Source London network will provide twice as many charge points than petrol stations, meaning owning an electric vehicle will be a genuine option for far more Londoners. Combined with the Government's ongoing support for electric vehicles and increased private sector involvement, our investment in this vital technology will help to deliver the Mayor's aspiration for London to become the electric vehicle capital of Europe.'
In recognition of the burgeoning electric vehicle market, Siemens has committed to become Source London's IT and services partner. This will include the Source London back-office operation which will oversee the network and a number of functions such as members' registration. This investment will deliver a new infrastructure for Londoners without relying wholly on investment from the public purse.
Ralph Griewing, Head of Siemens worldwide electromobility business, said: 'Siemens is delighted to be appointed as the IT and services partner for the Pan London Scheme which will run until the end of November 2013. Siemens will be providing the IT and process know-how to develop a range of driver services including a customer interaction centre, card production and registration services. Being the IT sponsor enables us to work closely with TFL to position London in the forefront of the electromobility revolution. Siemens is active in many major electro-mobility programmes across the globe and can bring this unique know-how along with advanced IT systems to create a comprehensive, interoperable and sustainable solution which will integrate the electric vehicle into London's transport landscape.'
Quentin Willson, motoring reporter, said: 'For urban motorists who want cheaper fuel and energy choices, electric driving is an increasingly great option. Electric vehicle technology has come on leaps and bounds in recent years, making the cars now coming onto the market far more usable and desirable. Crucially, people need to feel confident in taking the electric option. Source London is an exciting step forward, which is gearing up to make electric driving far easier in the capital.'
A number of other commercial organisations are investing millions into electric vehicles with every major car manufacturer planning to release a new model in the next six to 12 months. The Mayor is working to build on this with the aspiration to have 100,000 electric vehicles on London's streets as soon as possible. A recent report by HSBC estimates that the global electric vehicle market could be worth £440bn by 2020 with the EU being the biggest market. Work to boost this market in London could help to generate millions of pounds for the UK manufacturing industry, create new jobs and green the UK economy.