Infiniti and Volant inspire performance on the slopes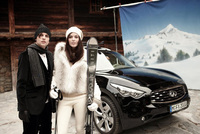 Infiniti, the luxury Japanese automaker, has partnered with Volant, the Austria-based manufacturer of premium ski equipment (the flagship brand of the Amer Sports Group Atomic-Salomon) to create one hundred of Infiniti-Volant Limited edition ski packs for winter sport enthusiasts in Europe.
The affiliation for the forthcoming winter ski season marks the debut for each of the organisations in the respective alpine and automotive arenas, and the coming together of two like-minded brands which appeal to the discerning individual driven by performance, exquisite design, and speed. Partnering with a luxury sports company such as Volant equally provides Infiniti with a unique platform to expose the brand in a dynamic environment whilst also enhancing and enriching the Total Ownership Experience for existing customers. The vehicle manufacturer will showcase their product range in joint initiatives at some of the most prestigious ski resorts of the Alps and Pyrenees regions, and throughout the European Volant retail network.
Commenting on the partnership, Toru Saito, Corporate Vice President and Leader of the Global Infiniti Business Unit, explains: "Volant shares Infiniti's core values of luxury, performance and unconventional style, and the continued dedication to the development of products which meet the needs of individuals who look to stand out from the crowd. In addition, with many of our existing owners sharing a passion for skiing, the Limited Edition Ski Packs are an ideal instrument for which to enjoy and be inspired by the exhilaration of the Infiniti brand whilst on the slopes."
Wolfgang Mayrhofer, International General Manager of Volant, says: "Both Volant and Infiniti are renowned for offering performance-enhancing models that evoke similar emotions and fuse exceptional design with uncompromised luxury to offer customers an unforgettable adventure. This therefore made Infiniti a natural choice, and it is a privilege to welcome the automaker to our partner portfolio. We look forward to a successful partnership during the coming months."
The one hundred Infiniti-Volant Limited Edition Ski Packs will be available to order from 01 November 2010 at any of the 40 Infiniti Centres in Europe for a recommended ski pack price (RRP) of £1,950 (including the Cross bar T-Track adapter ski carrier). Each pair of bespoke Infiniti skis will be engraved with the customer's name prior to delivery as standard.