Mazda puts the focus on fleet sales in Edinburgh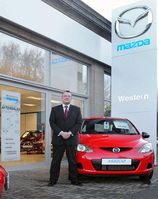 Mazda is to focus on developing the local business sales market in Edinburgh for the first time following the opening of Western Mazda.
Greg Law has been appointed Corporate Sales Manager at the recently opened dealership, which is part of the family-owned Scotland-based Eastern Western Motor Group. Mr Law brings to the role more than a decade of experience in both corporate sales and serving the business community in Edinburgh having previously worked for the John Martin Group in the city at its Murray Volvo and Murray Mazda outlets.
The opening of the new dealership in Corstophine Road, just a mile from Princes Street, comes as Mazda is increasing its fleet focus with the expansion of its Business Development Programme launched earlier this year to a further 20 franchise dealers across the UK.
The Programme has already helped Mazda to record a 13 percent year-to-date rise in its core fleet sales to outright purchase fleets, contract hire and leasing companies and through Mazda Contract Hire. Volumes have accelerated from almost 4,400 in the first nine months of 2009 to almost 5,000 vehicles in 2010.
Western Mazda is one of the new dealers to join the Programme, which sees franchise dealers working in tandem with an outsourced specialist sales team to maximise local business sales opportunities.
While Mazda's own corporate sales team focuses on fleets running 100 plus vehicles, Magma Services, part of the London-based automotive specialist Magma Group, is driving forward fleet sales to small and medium enterprises (SMEs) in partnership with franchise dealers, such as Western Mazda.
Mazda Fleet and Remarketing Director Peter Allibon said: "Although we have had a presence in Edinburgh this is the first time that there had been a focus on fleet sales for a couple of years.
"The Business Development Programme has been a tremendous success with the 19 dealers who were initially enrolled in the programme and we are now looking to capitalise further by involving more dealers."
More than 200 company car orders from sub-50 fleets have been taken through the Programme to-date and by April 30, 2011 - the end of the first 12 months of the initiative - the forecast is that orders for 820 company cars will have been taken.
Mr Law, who worked for the John Martin Group in Edinburgh for 10 years to 2008 before launching his own vehicle leasing brokerage known as Compass Fleet Management, said: "While my business has been a success I missed the dealer group environment. The decision of the Eastern Western Group to take on the Mazda franchise in Edinburgh presented a great opportunity for me to return to what I enjoy and capitalise on my experience and knowledge of both corporate sales and the city's business community.
"Mazda now has a complete range of models available to meet all fleet requirements - the Mazda2, Mazda3 and Mazda6 form the heart of the line-up with the new Mazda5 compact MPV, sports Crossover CX-7 and the iconic MX-5 giving user-choosers a lifestyle choice.
"I am familiar with the Mazda brand, and with the new Business Development Programme launched all the pieces are now in place to ensure that the marque becomes well established with the local business community in Edinburgh."