Fiat returns to the United States with the new 500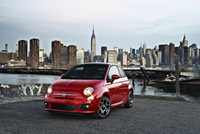 Fiat is announcing its return to the North American market at this week's Los Angeles international Auto Show. Leading this return is the new Fiat 500, the quintessentially Italian heir to a model that became legendary as a veritable motoring icon.
"The Fiat 500 has always been the right car at the right time," says Laura Soave, manager of the Fiat brand in North America. "With the new Fiat 500, a truly exclusive car in one of the most rapidly growing segments in North America is being introduced. It offers prestigious Italian design, value and efficiency, all smartly calibrated for our market.
"The Fiat 500 satisfies the new generations of Americans who want a captivating, customised, ecologically sustainable and technologically advanced vehicle that reflects their image. Like its historic predecessor, the new Fiat 500 redefines the concept of transportation and gives a new sense to expression and individual opportunities.
"At a time when America is returning to simplicity with renewed attention focused on the environment, our new car identifies with the current minimalist bent and offers an advanced and eco-sustainable technology enveloped by an aura of top quality, precision and style."
Produced in Mexico and with a starting price of $15,500 (£9,750), this alluring segment A four seater ensures a driving experience and sensations that are unparalleled owing to its ideal size for the city, thrilling driving dynamics, brand-new 1.4 litre MultiAir engine, innovative Blue&Me hands-free communication system and seven airbags supplied as standard (two in front, two window-bags, two side bags and one for protecting the knees), not to mention the reactive head restraints that activate in case of shunting accidents. This package is further perfected with high quality characteristics calibrated for the U.S. market, including a brand-new six-speed automatic transmission.
The Fiat 500 range in the United States offers three trim levels (Pop, Sport and Lounge), one engine type (100 HP 1.4 MultiAir), 14 exterior colours, 14 colour combinations and materials for the seats, two interiors (black or ivory) and a complete line of exclusive accessories made by Mopar to further customise the car, including decal packages, stylish accessories for interiors and exteriors and merchandising in original Fiat style, available at local dealers.
One of the most interesting contents is Blue&Me Tom-Tom, the multifunctional portable navigation system with an original design developed for the model with an innovative vehicle integration technology. Among other things, the Fiat 500 customer can make use of the free eco:Drive software application that collects journey data through the Blue&Me interface of the car, and analyses it to give the user handy personalised tips to cut travel costs and the environmental impact of driving style. The US specification Fiat 500 offers a standard total warranty of four years/50,000 miles and four years of unlimited roadside assistance, in addition to a three-year/36,000-mile maintenance plan with parts subject to wear and vehicle downtime reimbursed.
The new Fiat 500 is a perfect combination of advanced technology and Italian style that can be personally configured by American customers on the website fiatusa.com.