Maserati and Paco Rabanne exhibition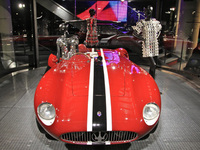 Yesterday the Motor Village in Paris, the Fiat Group brand point on the Champs Elysees, hosted an exceptional VIP evening to showcase an exhibition from Maserati and Paco Rabanne, two brands which signed the haute-couture history in their respective fields.
The links between Paco Rabanne and the automotive world are very strong: he designed in the '60s a limited ready-to-wear collection named "rob'auto", especially developed as a driving apparel line. His clothing, as well as Maserati cars, are purely emotional pieces and come from a fusion of design, art and passion which is absolutely inimitable. Moreover, the first female perfume created by Paco Rabanne was called Calandre (1969), and the front grille, calandre in French, is undoubtedly the most iconic part of a Maserati.
Many socialites and media personalities attended the event, among those the Italian actress and 'Casino Royale' Bond Girl Caterina Murino with her partner, French rugby player, Pierre Rabadan, Hollywood Star Tara Reid, French actresses Julie Judd and Pom Klementieff, designer Chantal Thomass and TV personalities Alexandra Golovanoff, Anne Denis, Victor Robert, Xavier Desmoulins and Valery Zeitoun.
All guests enjoyed the Maison Prunier Caviar and vodka Wiborova Exquisite, while dancing on the 60's vibe played by DJ Cedric Couvezand.
The brand new Maserati GranTurismo MC Stradale and a Maserati Trofeo Race Car, displayed at the entrance, 'welcomed' guests upon arrival. Indoors beautiful models dressed in iconic Paco Rabanne dresses, including the one made with aluminium discs worn by Audrey Hepburn in Two for the Road (1967) posed alongside the Maserati range, which included the stunning GranCabrio, the Quattroporte Sport GTS Awards Edition, the GranTurismo S MC Sport Line and a 300 S (1955), one of Maserati's most iconic race cars.