Renault launch iCare maintenance system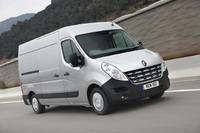 Renault's new 'pay-as-you-earn' iCare maintenance system, designed specifically for the LCV sector, could hold the key to helping van fleet operators to not only minimise downtime, but also address growing concerns that suggest van fleets are the least roadworthy vehicles on the road today.
Recent research conducted by the Vehicle and Operator Services Agency (VOSA) claimed that van fleet offences in certain areas, are exceeding those of heavy goods vehicles with more than half of its 21,000 roadside checks carried out on vans last year uncovering mechanical defects. That's compared to 24% of HGVs and 15% of PSVs.
With almost half of LCVs in the 3.0-3.5 tonne sector also failing their first MoT, Renault's new iCare fully-managed SMR offering, launched earlier this year, is engineered to tackle this growing problem by assisting modern commercial vehicle users to ensure downtime is kept to a minimum and compliance legislation is fully adhered to.
The new complete Renault iCare maintenance cover therefore takes care of all routine Servicing, Maintenance and Repair (SMR) - excluding damage, neglect or abuse - with the option to include fair wear and tear on tyres for the life of the agreement.
Unlike traditional SMR packages though, which offer a fixed monthly sum, Renault's iCare cover is charged on a simple 'pence-per-mile' basis, monitored remotely by telematics, meaning LCV operators only pay for whatever mileage they cover in any given month, based on a pre-agreed fixed pence per mile charge.
"This latest research by the VOSA is rather disconcerting for the industry," comments Darren Payne, Renault UK's Director of Fleet and Commercial Vehicle Operations, adding, "It would indicate that van fleet operators, maybe in part due to the recession and cutbacks, are disregarding mechanical defects and the need for regular maintenance checks on their vehicles.
"What's even more worrying though, is that initial MoT failures for class-seven vans have risen from 47.9% in financial year 2007/8, to 50% in 2009/2010 – that's the worst performing across the entire automotive sector and we suspect it won't be long before new legislation is introduced to uphold these standards."
Consequently, at the heart of the new Renault iCare service is the ability to automatically co-ordinate a vehicle's routine servicing and MoT needs. By monitoring the vehicle age and mileage, servicing and MoTs are arranged by Renault iCare with the nearest approved Renault dealer and fully-managed whilst the vehicle is off the road. This allows LCV operators to rest assured that all their vehicles are fully maintained and roadworthy, leaving them to concentrate on running their business.
During, or between, any routine servicing, all repairs are also logged, providing LCV operators with a complete Defect Management report with Renault iCare also maintaining electronic copies of all service, maintenance and repair work carried out, together with MoT documents, to ensure the vehicle is compliant with legislation.And of course all work carried out on the vehicle during its iCare agreement is undertaken by approved Renault technicians using genuine Renault parts.
Unique to Renault iCare is the fitment of a four-way communication system to each vehicle, allowing the driver to instantly speak, hands-free, to either Renault Assistance (24/7) should help be required, the Renault iCare call centre, the emergency services or a number of the customer's choosing such as the fleet manager.
Darren Payne, continues: "In these difficult times, it's comforting for LCV operators to know that their fleet of vans, be it one, 10 or 100, can be completely taken care of for as a little as a few pence per mile. What's more, thanks to our unique pricing scheme, it ensures users are only paying for what they use with no excess mileage charges and no under-run mileage losses.
"Being Europe's number one LCV marque as well as Fleet Van's 'Most Improved Van Manufacturer of the Year' in 2010, the Renault van range offers something to suit all businesses and already boasts innovative maintenance features such as brake pad sensors in the New Master Van."
He added: "When you consider that fleet operators can be held criminally responsible for unworthy road vehicles, it's easy to see why Renault is urging them to act now and start thinking the same way as an HGV fleet."
Renault iCare is available on the Renault commercial vehicle range, Kangoo Van, Trafic and New Master from new, or on vehicles that have covered less than 12,000 miles and are under 12 months old. For further details on Renault UK's iCare service visit renault.co.uk/business/icare.aspx.