World Championship for Chevrolet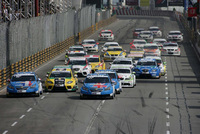 It was all in a weekend's work for Chevrolet, which won its first ever FIA-sanctioned world championship in Macau, adding to the high profile motor sport titles already won by the all-conquering Cruze. The four-door saloon is best known in the UK as the car that carried Jason Plato to victory in the British Touring Car Championship, but it has now gone on to victory on the world stage in a weekend that saw both the drivers' and manufacturers' titles going to Chevrolet.
And in a further boost for UK motorsport, the series winning car was built here by RML in Wellingborough, Northants, while Cambridge-based Rob Huff was joint second on points in the championship.
The championships were conquered with bravura, as Rob Huff and Yvan Muller took a double win in Race 1, after a faultless flag-to-flag performance. In Race 2, the Chevrolet duo had to fight hard to pass Farfus, finishing 3 rd and 4 th , which means that Chevrolet has been on the podium in 21 of the 22 races this year. Unfortunately, this was not enough for Huff to take the runner-up position in the championship, as he finished tied in points with Tarquini, declared vice-champion only on number of wins. Alain Menu had a more difficult week-end but showed again his tremendous team spirit and personal bravery, having to cope with the sad news of his father's death. The Swiss finished Race 1 in 7 th position, after a contact with the wall in lap 1, but could not take advantage from the first row position in Race 2, as a mechanical problem got him stuck on the grid.
"It was an amazing weekend in Macau as Chevrolet won both the Manufacturers' and Drivers' titles in the 2010 World Touring Car Championship," said Chevrolet Europe President Wayne Brannon. "This achievement is the culmination of six years of great teamwork, of incredible dedication and true passion
"The racing team has made Cruze a world champion! The WTCC features vehicles close to the regular production cars giving us the opportunity to showcase to race fans what a great product we have on the market. This was our second year of racing activity for the Cruze - which has become Chevrolet's best-selling passenger car worldwide in the same period."
As Queen's "We are the Champions!" was being sung in the Chevrolet garage after the race, amid accolades, toasts and some tears, the UK-based RML team was preparing for a long night of well-deserved celebrations. Once back at base in Wellingborough, Northants, work will resume, with a new challenge in sight: getting the new Cruze 1.6 turbo as competitive as the current race car in 2011.