Redrow to build new homes in Telford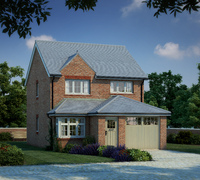 A former industrial site in Telford is undergoing a transformation to make way for new homes.
The land in Sommerfield Road was once home to iron, gas and rubber works and was also used for door and window moulding. It is now being redeveloped by Redrow Homes (Midlands) to meet the needs of a range of buyers and their budgets.
The developer has detailed consent to build 232 homes from its critically acclaimed New Heritage Collection on the 23.5 acre site.
Matthew Pratt, managing director for Redrow Homes (Midlands), commented: "Designed in response to customer feedback, the New Heritage Collection is a premium housing product that combines the best of old and new. Inspired by the architecture of the Arts and Crafts era, the homes look traditional on the inside, but inside they are bright and modern with family friendly features to meet the demands of 21st century living. It's proved popular with homebuyers across the country and I'm confident we will build on its success with our new venture in Telford."
The development, known at Trench Wood Gardens, will offer a choice of two, three and four-homes.
Arts and Crafts inspired features will be seen to varying degrees on the new homes in Telford, including dropped eaves, projecting plinths, bays and other distinctive window styles, plus timber or tiled canopies over doors and windows.
Inside the homes will enjoy an emphasis on convivial open plan living spaces. Contemporary kitchens will benefit from the convenience of integrated top brand name appliances and floor to ceiling units that offer plenty of storage; while statement-making bathrooms will boast quality fixtures and fittings.
"The New Heritage Collection offers a timeless solution to modern living. The combination of traditional exteriors and stylish interiors means customers can enjoy the charm and character of an older property but without any of the draw backs," Matthew commented.
"Because new-build homes tend to be more energy efficient than their older second hand counterparts, homeowners could save money on their utility bills. Plus they won't be inheriting someone else's decor or DIY disasters, but will enjoy the peace of mind of a 10-year 'Buildmark' warranty."
The development is scheduled to launch in early 2011, when show homes are due to open.
Close to Telford town centre and with easy access to the M54 motorway, Trench Wood Gardens, is well placed for commuting.
As well as the new homes, Redrow will provide an equipped children's play area. The developer will also be making a contribution to education and to road improvements in the area.
To register your interest in the new Redrow homes in Telford, visit: Redrow.co.uk