Seasonal savings on apartment reservations in Scunthorpe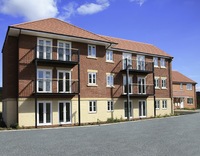 Stamford Homes is offering massive seasonal savings on selected apartments in the heart of Scunthorpe – following an extension of the popular HomeBuy Direct scheme.
Stamford Homes is one of only a handful of new homes builders offering an extension of the Government's shared equity scheme on apartments at The Island, which forms part of the exciting Water's Edge development.
Under HomeBuy Direct, purchasers can own 100 per cent of their brand new home but pay just 70 per cent of the price.
The remaining 30 per cent is met equally by Stamford Homes and the Government through a repayable loan.
This means the purchase price on a £99,500 apartment is just over £66,500 under HBD.
The incentive – which is perfect for first time buyers looking to step onto the housing ladder - is running for six months and is available on selected apartments priced between £99,500 and £104,995.
The first of the HBD eligible apartments are due for completion in Summer 2011.
The Island development forms part of the exciting Water's Edge scheme at Lakeside on the outskirts of the town.
Lakeside also includes proposals for a new school, football pitch, parkland, additional lakes, and a village centre on the edge of the town.
Some of the new homes have views of green open space and Ashbyville Lake, a popular spot with anglers, with the development located close to the popular Lakeside Retail Park.
The Stamford Homes element of the development comprises around 300 homes.
The sales and marketing suite is open from Thursday to Monday from 10.30am until 5pm.