MultiAir engine scoops another award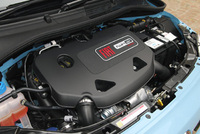 FPT's award-winning MultiAir engine has been awarded further recognition – this time as Best of What's New in the influential US magazine Popular Science.
The revolutionary engine, designed and developed by FPT (Fiat Powertrain Technologies) uses cylinder-by-cylinder, stroke-by-stoke direct air intake control without a throttle valve, to cut fuel consumption and CO2 emissions by up to 10 per cent, while obtaining 10 per cent more power and 15 per cent more torque.
The versatile MultiAir technology can be applied to all petrol engines, and interesting potential developments are in store for diesel engines too.
Earlier this year, the FPT 1.4 Turbo, the first engine to implement MultiAir technology, won the prestigious European Engine of the Year award in the best new engine of the year category, assigned by an international panel of 65 specialist journalists from 32 countries.
Today, MultiAir is available in the Fiat 500 0.9 TwinAir, Bravo 1.4 MultiAir and Punto Evo 1.4 MultiAir 105 HP and 135 HP. Additionally, it powers the Abarth Punto Evo 1.4 MultiAir, Alfa Romeo MiTo 1.4 MultiAir 105 HP, 135 HP and 170 HP, and Alfa Romeo Giulietta 1.4 MultiAir.