Christmas comes early at Covent Garden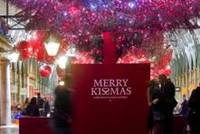 Covent Garden's stores will fully embrace the Christmas spirit on Thursday 2nd December, offering 20% off at participating stores to all customers between 5 - 9pm, as well as two fantastic live performances from the cast of Priscilla Queen of the Desert The Musical at 6pm and 7.40pm.
To receive their 20% discount, shoppers will need to visit coventgardenlondonuk.com and download their voucher. With retailers including Kurt Geiger, Original Penguin, French Connection, Paperchase, Oasis, Ben Sherman and Lucy in Disguise participating, shoppers will be able to find all their Christmas essentials. A full list of participating retailers is available at coventgardenlondonuk.com.
Covent Garden Loyalty Cardholders who spend at least £50 on the night will be eligible to claim one of 200 limited edition goodie bags, packed full of Christmas treats from Covent Garden retailers. Cardholders will need to take their receipts to the Covent Garden information office to receive their bag whilst stocks last.
The shopping promotion is part of a full programme of festive events to help London get in to the Christmas spirit, including the UK's most exciting Christmas tree KISS, designed by Paul Cocksedge Studio, which invites visitors to ignite a cascade of 50,000 LEDs lights on the 50 ft tree every time they hold the mistletoe and kiss. Visitors are asked to donate £1 per kiss with all monies raised supporting The Prince's Trust.
Other entertainment at Covent Garden across the Christmas period includes:
• Musical Performances: Covent Garden Market Building will be filled with the uplifting sound of some of London's most talented choirs, singing 'love'- and 'kiss'-inspired songs, as well as a host of carols. There will also be the usual classical performers adding to the Christmas ambiance in the Market Building. Visit coventgardenlondonuk.com for the schedule of performances.
• 'Fancy a Kiss?': A special singles nights beneath the tree on Thursday 9th December, for those looking to find someone to share a kiss with, There'll also be a 2 for 1 offer on hot spiced cider from the Cider Van.
• International Kiss Day: Inviting foreign nationals living in London to kiss underneath the tree on November 25th from 6pm-8pm . Covent Garden will film their kiss and personal message; and email it to their loved ones around the world. Taking place on Thursday 25th November.
• Covent Garden Real Food Market: At London's ultimate 'love-inspired' foodie stop-off there will be heart-shaped mince pies, aphrodisiac Oysters, hand-made chocolates for your loved ones and more. Every Thursday up to and including 23rd December from 11am-7pm (see notes to editors for more details).
• Kiss-themed Products: The UK's finest craft market traders on the Apple Market will be creating bespoke kiss-inspired items for sale – what better place to buy your loved-one a hand-made gift than under the roof of London's most romantic building this Christmas.
• Christmas Decorations: Alongside the spectacular tree, giant baubles will be suspended from the ceiling of the Market Building alongside glowing light installations. Topiary candy canes and a 37ft topiary reindeer, complete with red nose, will also adorn the Market Building and the Piazza.
• Pucker Up!: Sponsor partner, The Body Shop, will be donating vital funds to youth charity The Prince's Trust to help change young lives in the UK. To get you in the festive mood, The Body Shop will also be hosting 'pucker up' stations, where your lips will get a free makeover to give you the perfect pout and kiss-ready lips!
Bev Churchill, Covent Garden London Brand Director, comments: "Love is going to be in the air this Christmas at Covent Garden, we want to bring people together to share some real festive moments that everyone will enjoy and remember."
Visit coventgardenlondonuk.com for more details.