Social landlord RCT Homes steers its fleet towards Renault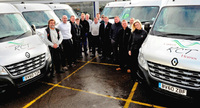 Staff at Wales' largest social landlord, RCT Homes, plumped for the new range of Renault vans when they were invited to choose which manufacturer should deliver their latest fleet.
The organisation ordered 51 New Master vans in a combination of different versions for their maintenance staff who travel all over Wales, looking after homes on more than 60 housing estates and in 27 sheltered housing schemes.
RCT Homes is a community mutual organisation, which is a new way of running housing. Five tenants sit on the RCT Homes Board and tenants play a key role in scrutinising new policies and procedures and in overseeing RCT Homes' major decisions.
One member from each of the organisation's trade team was involved with the selection of the interior of the vans to ensure that the models that were leased would be practical and suit the teams on the road. The teams travelled to Shropshire as part of the project and everyone had the chance to test drive the new vans.
After rigorously testing various demo vans, the drivers were asked to complete a survey sheet, with Renault being a clear winner across the board.
Andrew Rigby, Housing Maintenance Unit Plasterer, said: "By involving us in the decision making process it has meant that the boys are happy that the new vans are equipped to our personal trades. This will be of great benefit to our day-to-day work."
Darren Payne, Renault UK's Director of Fleet and Commercial Vehicle Operations said, "When it comes to choosing a fleet, there's no one better to make the decision than the very people who will be driving these vans every day.
"We're delighted that RCT Homes selected New Master which has recently received fulsome praise from the Press and business customers alike thanks to its more spacious interiors, outstanding fuel efficiency and excellent build quality."