Congestion Charge discount extended to smart cdi and mhd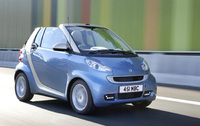 Recent changes to the Greener Vehicle Discount now mean that new generation smart cdi and mhd (micro hybrid drive) models will be exempt from the London Congestion Charge.
As of 4th January 2011, all vehicles that emit 100g/km or less of CO2 and that meet the Euro 5 standard for air quality will qualify for a 100 per cent discount from the Congestion Charge.
The most popular smart models – the cdi diesel and mhd petrol - comfortably meet the criteria to be eligible for the £8 discount. When both are fitted with softip transmission, the 54bhp cdi emits just 86g/km CO2 and the recently revised 71bhp mhd produces 97g/km CO2.
Customers of either smart who commute into the congestion zone can expect to make a saving of up to £2,500 per year.
To qualify for the discount owners will need to register with Transport for London (TfL) and make an annual £10 payment per vehicle. Another review will be made in 2012 as to whether Transport for London wishes to lower the threshold even further due to the likelihood of increased electric vehicle production, such as the forthcoming, zero-emission smart electric drive.
Gary Savage, Managing Director Mercedes-Benz Cars UK, said: "smart is one of the most environmentally-compatible cars available and with the whole range emitting below 120g/km CO2, the vast majority of models are actually more efficient than some of the hybrid and alternative fuel vehicles that already qualified for the 100 per cent discount.
"This development recognises the importance that smart places on lowering emissions and we are delighted that this total exemption from the London Congestion Charge enhances the already frugal running costs of smart and makes the brand even more attractive for driving in the capital city."