Daihatsu defies the credit crunch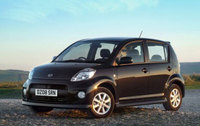 Despite the credit crunch, compact car specialist Daihatsu has boosted sales by 32 per cent year-to-date and has appointed a new dealer every two weeks.
The Coleshill-based Japanese importer has signed up eight new dealers so far this year and aims to grow its 120-strong network to an eventual 140 showrooms.
"Dealers are the key to the fortune of Daihatsu in the UK. We are looking for committed owner-driver dealers with an excellent reputation in their communities for customer care," said Daihatsu Vehicle Distributors Operations Director, Paul Hegarty.
He added: "For us the dealer creates the opportunity in the marketplace regardless of where they are located. It's all about attitude."
The latest dealer appointments are: Newark in Crewe; Cist and Rattle of Bristol; Eastbourne Daihatsu; Chariton Motor House of Folkestone; Hammonds Halesworth; Downey's of Newtownards in Northern Ireland; Lime of Leamington and Donnelly in Belfast.
Daihatsu scores consistently well in the Retail Motor Industry Federation Dealer Attitude Survey, especially for technical support and lack of management interference.
Meanwhile, with ever-increasing fuel costs and tighter budgets, the Daihatsu range of low-polluting and economical compact cars is winning new converts. Sales from January until the end of April are more than 32 per cent up.
In addition, all Daihatsus now come with a five-year unlimited mileage warranty plus five years' UK roadside recovery. The offer is not transferable and applies to all retail sales.
In addition, the funky Materia mini-MPV enjoys a £500 price cut until the end of June, bringing it down to £10,495 for the 1.5 litre manual and £11,295 for the automatic.
Meanwhile, thanks to the introduction of a new 1.3 litre engine last year plus a £2,500 price cut, the cute and curvy Copen is enjoying an enthusiastic following with supplies still not keeping up with demand.
Adored for its timeless curvy styling and effortless electric metal folding roof, the revised Copen costs £11,495 on-the-road.
The award-winning Terios 1.5 S costs £12,995 on-the-road despite a high standard specification which includes air-conditioning, power-steering, ABS with EBD and full-time four-wheel drive with electronic centre diff-lock.
Finally, the popular Sirion supermini - which enjoyed a 54 per cent sales increase in 2007 – is Daihatsu's lowest-priced model at £7,995 on-the-road.