KIVI introduces wheelchair accessible mini-MPV conversion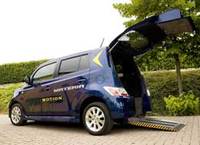 There aren't many cars that turn as many heads as the Daihatsu Materia. The 5 door Daihatsu Materia, now from only £10,495, with £500 off all Materia's registered between 1st April 2008 and 30th June 2008, is a high-roofed superminivan with striking looks and spacious interior that offers extravagant design flair, flexibility and practicality , which is enough to label it as a mini-MPV.
"KIVI's commitment as a major supplier of the most reliable, highest quality and most easily accessible transportation to disabled drivers and their families are clearly seen. Whether the disabled individual is a passenger or driver the KIVI Materia Motion offers maximum accessibility, visibility and space, whilst remaining a compact, family vehicle", states Michela Giberti, Sales President at KIVI.
KIVI is one the most important companies in Italy dedicated to motor vehicle conversions and have been offering over 20 years of unmatched experience in the modification of vehicles. KIVI of Vigliano d'Asti southeast of Turin is proud to offer its quality line of lowered floor conversions and automotive mobility products, enabling customers the freedom to experience, explore and enjoy an active, mobile lifestyle.
Providing the ultimate in independence for wheelchair users, allowing for maximum wheelchair maneuverability, the Materia Motion is designed for wheelchair driver or front wheelchair passenger featuring a lowered floor combined with a short ramp. From the firewall to the rear axle, the vehicle's floor is up to 7 inch (200 mm, millimetre) lower than original Daihatsu Materia, so that an optimum free high inside the cabin of over 55 inch (1400 mm) is obtained.
The KIVI Materia Motion is the first wheelchair accessible mini-MPV conversion ever. The dimensions of the original car are only 150 inch (3800 mm) in length and 66.5 inch (1690 mm) in width. The KIVI Materia Motion offers as much interior room as all other wheelchair accessible minivans on the market.
Sets a benchmark in the lowered floor segment
"The KIVI Materia Motion sets a benchmark of product innovation in the lowered floor segment and it strengthens our product lineup. We believe the accessibility of the KIVI Materia Motion will achieve the level of performance that demanding customers expect", states Michela Giberti, Sales President at KIVI.
A standard feature on the KIVI Materia Motion is a powered ramp and powered door mechanism with a remote control. In the event of power failure, both ramp and door can be operated manually. The access height of the vehicle is only 5.5 inch (140 mm) from the ground, allowing a shortened 35 inch (900 mm) access ramp, the low 12 degree ramp angle provides an almost effortless entry into the car and the shorter ramp length allows for parking in tighter places. The lightweight aluminum ramp have durable, non-skid surface for unrestricted entry and exit.
"An absolute novelty of the KIVI Materia Motion is the complete flexibility in the choice of seating positions, wheelchair users can choose to drive the car from their wheelchair and enjoy the view as a passenger", Michela Giberti says.
Two KIVI Wheelchair Tie-Downs are installed on the driver position and in front passenger position. With the electric tie-down a wheelchair occupant can secure their wheelchair in the vehicle without any assistance by an attendant
The innovative step is that these wheelchair tie-downs not only serve as a securement of the wheelchair during transportation, but also can be used for a quick release attachment of the original seat, so that the individual always are free to decide to attach the wheelchair or the original seat on it, allowing the vehicle to be driven or used by able bodied person without any time-consuming alterations.
"Further more it is possible to have a third wheelchair fixated with a 4-point wheelchair restraint system in the rear. An alternative is then to transport only one wheelchair in the rear, keeping the original seats in the front", explains Michela Giberti.
When the KIVI Materia Motion are used for up to two wheelchairs, there is still room for a third passenger seat in the rear seats row. The rear row bucket seat can be folded to the side, allowing unrestricted entry and exit for the wheelchair user. This unique feature offers accessibility in an economical package for those who will travel with an attendant.
State of art driving adaptive equipment
The KIVI Materia Motion can be easily adapted with state of the art driving adaptive equipment.
"Our single-handed controls for control of braking, acceleration and other primary driving functions, such as wipers, lights, blinker, hand-brake, etc, including the KIVI Remote Transmitter the unique KIVI "K 5" Gas Ring or the KIVI Brake Lever, explains Michela Giberti.
"Combining style and accessibility, an adapted KIVI Materia Motion makes all journeys straight forward".
The KIVI Materia Motion has been approved by The Motability Scheme as a Wheelchair Accessible Vehicle (WAV).
The Motability Scheme offers disabled people who receive the Higher Rate Mobility Component of the Disability Living Allowance a brand new car every three years including insurance, personal accident cover, aftersales servicing and maintenance, full breakdown assistance from the RAC, an allowance of 60,000 miles over the three years and free tyre replacement.
The Daihatsu Materia comes with a very interesting prize, but offers also great opportunity extras such as air conditioning, alloy wheels, CD Tuner with 6 illuminated speakers, rear parking sensors, electric mirrors, and illuminated door trim, include at no extra cost.
All Motability customers also benefit from a great value inclusive package that includes full RAC breakdown assistance, free replacement tyres, free window replacement, annual car tax and comprehensive insurance just for starters.
Quality and Safety are of great concern to KIVI, all the products and lowered floor conversions design are crash tested, homologized, and meet all motor vehicle safety standards. Actions are taken to carry out all the sufficient tests of the KIVI Materia Motion, and full homologation will be achieved in the near future.
The automotive mobility products and the conversions of the KIVI Materia Motion are manufactured at KIVIs´ modern facility, conveniently located in Piemont, Italy. KIVI also have a high reputation for supplying Kia Sedona minivan conversion with lowered floor and side-entry ramp access for disabled drivers and passengers.
"The KIVI Materia Motion makes a totally new range of compact family vehicles accessible to a bigger group of disabled customers than ever before," say Michela Giberti, Sales President at KIVI.
"KIVI is a mobility company at its core, and the KIVI Materia Motion is the perfect mobility solution for the independent wheelchair user".
For more information, visit kivi.it